This week's Industry Idol is Susanna Franchi, the Editor in Chief of the Italian music magazine 'Il Giornale della Musica'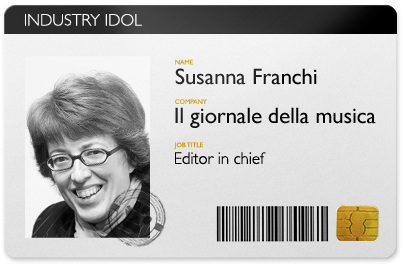 What are the first, most important steps a young artist needs to take when they embark on their career as a performer?
A helpful start is definitely a good teacher and a suitable school: if you take the wrong steps at the beginning, everything will be more difficult. I strongly believe that making the most of all opportunities to be seen and heard are important: competitions and performances are all full of agents and artistic directors ready to discover new talent.  Moreover, there are competitions that give the opportunity to play in some leagues and there are great artists as well, who organise meetings, ready to help young talents.
What was your first job in the music industry?
In my teens I worked in a radio, talking about classical music in the first Italian independent radios, at the time when opera and symphonies were considered weird. But, apparently there was still a classical music audience and I won my battle.
What skills do you think are needed to succeed in the music industry?
Passion more than anything.
What's the most important thing you've learnt during your career?
Never cheat, because somehow eventually quality wins.
What do you enjoy most about your job?
I feel lucky because I often meet interesting people such as conductors, singers, directors and composers. I do interviews, attend rehearsals, go to the opera or a concert.  These are the most enjoyable sides of my job, but most of all I like describing these moments to our readers. I'm very happy if the audience can appreciate an opera better, having read an interview with an artistic director or a conductor.
On a typical working day, what's the first thing you do when you get into the office?
I switch on my computer, read my mail and the press reviews (there's always the latest news to post online), urge a collegue to have an article or ask press offices for a photo or an interview.
Do you think there is anything in the classical music industry that needs to be changed? If yes, why?
I think that classical music industry has already changed a lot. 20 years ago no one would have said that the CD would have disappeared or that discography would have radically changed. Nowadays artists can produce recordings themselves and market them online.  Just think of operas and concerts in streaming: even if you have never been to Berlin, you can listen to  a Berliner concert on you computer.  Everything has changed, news spreads faster and you can find and listen to so many things.
Are there any young musicians, emerging venues, exciting companies, composers… etc that you are keeping your eye on?
I was at Premio delle Arti (a competition for Italian Academy's students) and I heard a young and talented Rumanian soprano, Letitia Vitelaru, lyric singing winner. When I went to Turin's music academy for Orpheus Competition I heard Japanese soprano Sachika Ito. As far as I'm concerned these are two names you will hear of again.
Where do you read about classical music?
Il Giornale della Musica of course! Opera, Scherzo, La lettre de musicien, cultural features in the newspapers, Le Monde, blogs such as Alex Ross's, Opera Chic's website.
Where is your favourite place in the world for classical music?
Turin, my hometown: it's definitely a musical breeding ground and it is full of things to do. Another place would be Paris. When I go up the stairs at the opera, I just think about how much history it has been through or I lean out Champs Elyseés theatre's bandstand and I remember Stravinsky.