Introducing Vox Urbane
It's always exciting to be there at the start of something that feels like it's going to make a difference. So at WildKat we're chuffed to be working on press for the launch of the brand new vocal ensemble, Vox Urbane.
Celebrating diversity is the raison d'etre for this ambitious new professional ensemble comprised of 16 exceptional artists, some of whom will be familiar to audiences through performances with ensembles and choirs such as Exaudi, Polyphony, the Kings Consort, Ex Cathedra, I Fagiolini and The Sixteen.
At their inaugural London concert on 16 April, Vox Urbane will give a good idea of how they intend to proceed, performing canonical works whilst also expanding the repertoire to recontextualise and make relevant choral music for new audiences. There'll be UK premieres by Judd Greenstein (best known for his work with renowned US ensemble Roomful of Teeth) and Tara Mack, alongside works by Philip Glass, Poulenc, Meredith Monk, Shruthi Rajasekar, Joanna Marsh, Barbara Dudek and Dan Ludford-Thomas.
Vox Urbane has been established in response to what its co-founders Dan Ludford-Thomas and Helen Meyerhoff see as a startling lack of diversity in their field. They're on a mission to reflect the complex urban tapestry from which they come, beginning with a particular focus on gender and ethnic diversity. As they develop, they'll be tackling other barriers leading to exclusion too, such as socio-economic factors and disability.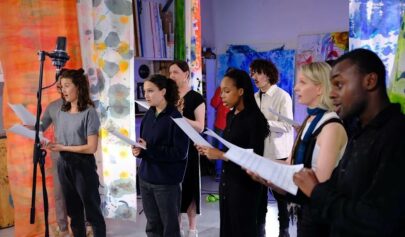 "Whilst there are already instrumental groups with comparable missions, no other vocal ensembles exist which fulfil this purpose," says Ludford-Thomas. "As a man of mixed heritage, I have long been troubled by the lack of racial diversity in classical choral music in the UK. In order for this industry to reflect the rich diversity of our society, those who come into it should be able to see others like themselves."
"Singing should not be a club exclusive to those from the 'right' background," adds Meyerhoff. "Vox Urbane is our way of changing that."
From the start, they are also nurturing a new wave of classical talent, through their Vox Next Gen group of singers who are being offered individual and group tuition, as well as career mentoring. These talented younger singers will also perform at the launch concert. And there's already ambitious plans underway for their education outreach programme, Vox Roots.
Vox Urbane is comprised of Jennifer Cearns, Miles Dahan, Hester Dart, David DeWinter, Charlie Hodgkiss, Thomas Lowen, Dan Ludford-Thomas (Principal Conductor), Dani May, Helen Meyerhoff (Artistic Director), Ben Miller, Charlie Morris, Binath Philomin, Sophie Taylor Denton, Philip Tebb, Ben Thapa, Emma Tring and Helen Vincent.
The Vox Next Gen artists are Chyaro Hilton, Olisaemeka Aghadiuno, Hannah Hopkins, Niamh Kearney, Lily Kemp, Danny Roade, Amelia Ross, Ioan Saul and Brooke Storey.
Check out Vox Urbane in concert on Sunday, 16 April at 6:30pm at Asylum Chapel, Peckham. The £20 tickets even includes a glass of champagne to celebrate these new kids on the block.
Buy tickets here:
Video featuring members of Vox Urbane and Vox Next Gen:

Room For All, words and music by Barbara Dudek