Conductor invents 'music-enhancing' face mask for orchestral concerts
A new invention allows COVID conscious concert-goers to protect their nose and mouth, while bringing acoustical benefits to the ears.
We've all cupped our hands behind an ear to pick up a little more audio detail. This gave conductor Iván Fischer, the founder and music director of the Budapest Festival Orchestra, an idea – and the mask-wearing normality provides the perfect platform for his entrepreneurial endeavour.
In his invention, a facemask is fitted with two hand-shaped protrusions that sit behind the ears, improving the acoustics for the listener. The second pair of hands is pleasingly transparent for all-important concert dress aesthetics, and so not to disturb those sitting behind you.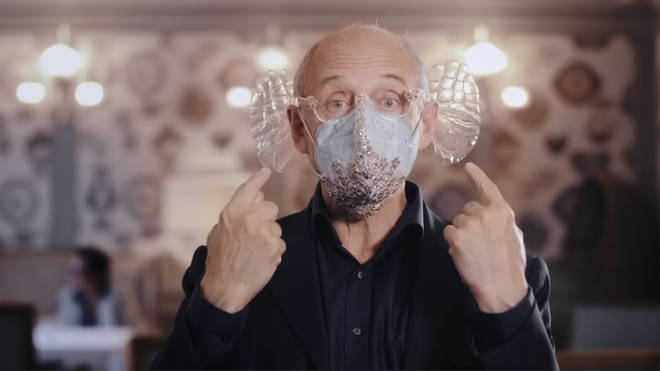 ---
Katharina Wagner "vollständig genesen" zurück in Bayreuth
Die Bayreuther Festspielleiterin Katharina Wagner nimmt nach längerer Krankheit ihre Arbeit im Festspielhaus wieder auf. Sie sei "vollständig genesen" bestätigte die 42-Jährige der "Passauer Neuen Presse" (Mittwoch). Nun wolle sie sich unter strengen Corona-Schutzvorkehrungen der Vorbereitung der Festspiele im kommenden Jahr widmen, zitierte die Zeitung die Urenkelin des Komponisten Richard Wagner. Nach Ende des Betriebsurlaubs bei den Bayreuther Festspielen kehre sie am kommenden Montag zurück.
Wagner habe nach eigenen Angaben sechs Wochen lang im Koma gelegen, berichtete die Zeitung. Am Universitätsklinikum Regensburg habe man ihr "Leben gerettet", wird sie zitiert. Ein Reha-Aufenthalt in Oberbayern sei abgeschlossen.
Bayreuth: Katharina Wagner "completely recovered"
Bayreuth Festival Director Katharina Wagner resumes her work at the Festspielhaus after a long-term illness. She has "completely recovered", the 42-year-old confirmed to the "Passauer Neue Presse" (Wednesday). Now, under strict corona arrangements, she wants to devote herself to preparing next year's festival, the newspaper quoted the great-granddaughter of composer Richard Wagner as saying. She will return next Monday after the end of her company holidays at the Bayreuth Festival.
According to the newspaper, Wagner had been in a coma for six weeks. She was quoted as saying that her "life was saved" at the Regensburg University Hospital. A rehab stay in Upper Bavaria has been completed.
---
Le compositeur Paul Méfano est mort
Compositeur à l'univers sonore inspiré par la poésie et fondateur d'un ensemble avec lequel il a créé plus de 600 œuvres de ses contemporains, Paul Méfano est mort ce 15 septembre à l'âge de 83 ans.
Né en 1937 à Bassorah, en Iraq, Paul Méfano fait ses études d'abord à l'École normale de musique, puis au Conservatoire de Paris où il est l'élève de Darius Milhaud. Il suit encore l'enseignement de Pierre Boulez, Karlheinz Stockhausen et Henri Pousseur à Bâle, et enfin d'Olivier Messiaen à Paris. Après divers séjours à l'étranger, Méfano revient en France en 1970.
L'importance de la transmission
Il fonde deux ans plus tard l'Ensemble 2e2m (pour « études et expressions des modes musicaux »), qui créera pas moins de 600 œuvres contemporaines, donnant en particulier leur chance à de jeunes compositeurs. L'Ensemble a enregistré une quarantaine de disques. Méfano se fit le défenseur de compositeurs aussi divers que Brian Ferneyhough, Philippe Boesmans, Morton Feldman, Luigi Nono… Il a également beaucoup œuvré à la découverte de l'œuvre d'Alkan. Par ailleurs, il a enseigné la composition et l'orchestration au Conservatoire national supérieur de musique de Paris jusqu'en 2002, tout en dirigeant de 1996 à 2005 le Conservatoire de Versailles.
The composer Paul Méfano has died
Paul Méfano, a composer whose sound universe was inspired by poetry and founder of an ensemble with which he created more than 600 works by his contemporaries, died on 15 September at the age of 83.
Born in 1937 in Basra, Iraq, Paul Méfano studied first at the Ecole Normale de Musique, then at the Paris Conservatoire where he was a pupil of Darius Milhaud. He also studied with Pierre Boulez, Karlheinz Stockhausen and Henri Pousseur in Basel, and finally with Olivier Messiaen in Paris. After various stays abroad, Méfano returned to France in 1970.
The importance of transmission
Two years later he founded Ensemble 2e2m (for "studies and expressions of musical modes"), which would create no less than 600 contemporary works, giving young composers in particular a chance. The Ensemble has recorded some forty discs. Méfano was an advocate for composers as diverse as Brian Ferneyhough, Philippe Boesmans, Morton Feldman, Luigi Nono… He also did a lot of work in discovering the work of Alkan. In addition, he taught composition and orchestration at the Conservatoire National Supérieur de Musique de Paris until 2002, while directing the Conservatoire de Versailles from 1996 to 2005.