In today's news: New York Met opera suspends James Levine over sexual allegations, 70% of self-employed workers in classical music had been harassed, study finds; creative industries made a record contribution to the economy last year. Also, Artur Korn's 80th birthday, Andreas Frank wins the JukeBoxx NewMusic Award and William Mayer dies at the age of 91. 
The Guardian
Six in 10 classical music workers harassed, UK survey finds
Incorporated Society of Musicians study finds 70% of self-employed workers in industry said they had been harassed.
What can we learn from an orchestra of broken instruments?
Grammy award-winning composer David Lang assembled a unique symphony to showcase damaging cuts in funding to a Philadelphia school district.
Music Teacher
Creative industries growing at twice the rate of the economy
The Department for Digital, Culture, Media and Sport (DCMS) has announced that the creative industries made a record contribution to the economy in 2016.
Classical Music
In celebration of Artur Korn's 80th birthday
Happy 80th birthday to the distinguished bass Artur Korn, who was born in Wuppertal, Germany, on 4 December in 1937.
The Strad
Tourte bow demolishes price records in French auction
Violin bow by François Xavier Tourte sells for €576,600 (c.$687,000) at Vichy Enchères the day after same house breaks record for violin by Vuillaume.
Forbes
Why Spotify And Tencent Music May Swap Stock
It's been reported that Spotify and China's Tencent Music Entertainment Group are in talks to acquire 10% of each other, and should the deal go down, there's no other way to look at it than as a strategic maneuver that has nothing to do with their subscribers.
The New York Times
William Mayer, Wide-Ranging Composer, Is Dead at 91
William Mayer, a prolific composer who ranged from orchestral and chamber music to choral works, operas and more, died at his home in Manhattan on Nov. 17, the day before his 92nd birthday.
Der Tagesspiegel
Stardirigent James Levine soll Jugendlichen missbraucht haben
New Yorker Metropolitan Opera untersucht Missbrauchsvorwürfe gegen Stardirigenten James Levine. Der frühere Musikdirektor soll einen Jugendlichen jahrelang missbraucht haben. 
Epoch Times
Orgelbau: Traditionelle europäische Kulturform soll Welterbe der Menschheit werden
Nicht nur Kirchen, auch große Konzertsäle füllt sie mit ihrem Klang. Nun könnten Orgelbau und Orgelmusik von der Unesco zum immateriellen Kulturerbe der Menschheit erklärt werden.
Klassik.com
Andreas Frank gewinnt Preis für Gegenwartsmusik und Medienkunst
Der Komponist Andreas Frank hat den diesjährigen JukeBoxx NewMusic Award erhalten. 
Le Figaro
Accusé d'agression sexuelle, James Levine suspendu par le Metropolitan Opera de New York
Un homme resté anonyme a déclaré à la police que le directeur musical honoraire du «Met» de New York avait abusé de lui lorsqu'il était adolescent, dans les années 1980.
Twitter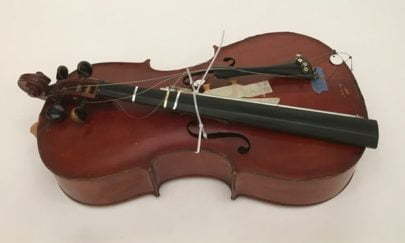 Image: One of the 1,500 instruments that will be part of the Symphony for a Broken Orchestra. © The Guardian/Courtesy of Temple Contemporary