Joan Valent releases Poetic Logbook II EP
WildKat is excited to be working with Mallorcan composer Joan Valent on the release of his newest recording, Poetic Logbook II, a companion to Poetic Logbook which was released in spring 2019.
Joan is an important voice in music, not least for the language of his music and his strong drive to reflect global issues through his expansive, varied body of work.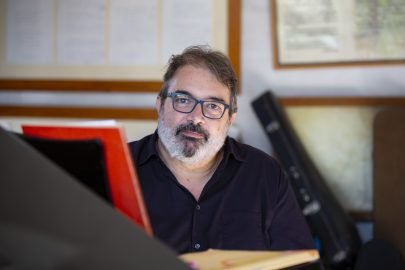 Having grown up in Mallorca where he developed a deeply emotional connection to nature, conservation is at the heart of all Joan's work. Through his thoughtful, powerful and expressive music, Joan stirs a range of emotions in the listener in response to the current climate emergency. By highlighting the transformative beauty and experience of nature, Joan ultimately uses the essence of music to reach the human soul and create urgent dialogue around the need to protect our threatened earth. Joan directed this same energy for change into 'Kaiassa', his 2011 release through Deutsche Grammophon, which is a masterful evocation of Nature.
Joan's composition and the sculpture of his music adds a unique, meaningful and vital new voice to contemporary classical music, and being the only living Spanish-speaking composer to have his work released by Deutsche Grammophon is a testament to this. His latest release on the label, Poetic Logbook, is a musical journey of two simultaneous records – one geographical, and another literary – that have inspired and invigorated him as a human being and as an artist. This disc pays homage to Joan's musical language as he creates beautiful and emotive music, that navigates his listeners through an emotional journey across the world.
Previously, Joan has been commissioned by both the Balearic government and the Miro Foundation, and he has also collaborated with several orchestras and artists including José Antonio Ramos and Montserrat Caballé (for two Grammy-Award-winning albums). His first album "Ars (Iberautor)" was released in 2000, and was followed up by the album "Ensems (World Muxxic)" in 2002. This follow-up album garnered high praise, receiving the Best Folk Album and the Best Album in Catalan Award in the Sixth Edition of the Music Awards.
Joan is also a prolific film composer, most notably known for his work on the critically acclaimed film "Birdman", in addition to Álex de la Iglesia's 'El Bar', 'Mi gran noche', and 'Witching and Bitching', plus Agustí Villaronga's 'Carta a Eva' and 'The King from Havana'. Joan has also worked on the documentary for "How Much Does Your Building Weigh, Mr. Foster?" and a number of TV shows including "Delusions of Love", "Maribel Marry Me", "Cycling", and "Serrallonga".
2020 is set to be another memorable year for Joan, as he works on an opera production, a piano concerto, and a new album.
WildKat is thrilled to welcome Joan as we work together on the PR for Poetic Logbook II. It is released today to all streaming platforms.