Classical News
Classical Music Magazine
Julian Anderson moves to Schott from Faber Music
Composer Julian Anderson has joined Schott Music from Faber Music, which will retain his current catalogue. Faber and Schott 'will work together closely on the overall promotion of Anderson's music', said a statement.
Classic FM
Karl Jenkins to judge Arts Club's £4,000 classical music award
The Classical Music Award, launched by the Arts Club in 2013 to celebrate the best performer in the UK, is back this year, with Karl Jenkins as chairman.
Classic FM
Music lessons and private tuition give richer children 'significant advantage'
Children from high-income families are more likely to take extracurricular classes, and have an edge over other children from poorer backgrounds, a new study reveals.
The Strad
Applications now open for 5th Windsor Festival International String Competition 2015
The event takes place at Windsor castle, outside of London, in March next year.
The Strad
Cellist and teacher Rhuna Martin has died at the age of 82
The South-African born artist was a highly influential pedagogue at such London institutions as the Royal College of Music and Guildhall School.
Pizzicato
ICMA Starts Preparation Of The 2015 Gala Concert With The Bilkent Symphony
ICMA President Remy Franck is currently in Ankara to meet the directors of the Bilkent Symphony Orchestra who will host the next Gala Concert and Award Ceremony in the magnificent Bilkent Hall in Ankara, Turkey.
Arts Professional
Local authorities playing it safe, report warns
The trend for closing arts services is continuing, with over a third of local authorities in England and Wales left with no arts officer.
New York Times
Chicago Symphony Association Names a New President
The Chicago Symphony Orchestra Association had been searching for a new president since Deborah F. Rutter announced in December that she planned to leave in June to become president of the Kennedy Center.
Classicalite
Fabio Luisi Named Principal Conductor of the Danish National Symphony Orchestra in 2017, Following Zurich and Met Operas Jobs
Fabio Luisi will be quite busy in the coming years. Music director of the Zurich Opera and principal conductor of the Metropolitan Opera, now Luisi will be named principal conductor of the Danish National Symphony Orchestra.
Zeit
Opern-Spielzeit Neustart oder Notstart?
Die Oper in Wuppertal hat als einziges deutsches Haus sein festes Sängerensemble aufgelöst. Was, wenn das sogenannte Stagione-Modell jetzt hierzulande Schule machte?
Welt
Geliebt von Andrea Breth wie Sasha Waltz: Der Wiener Bariton Georg Nigl ist der profilierteste Kamikaze-Sänger der Gegenwart. Für rührselige Rollen von Puccini und Verdi hält er sich nicht geeignet.
Weser Kurier
Südkoreanerin gewinnt Orgel-Contest.
El mundo
'El Real es la insignia de este país'
Pablo Heras-Casado se convierte en el principal director invitado hasta 2018.
Twitter
Southbank Centre ‏@southbankcentre: Join Adrian Lee & Tom Doughty – 2 superb guitarists for today's Friday Lunch w/ @MasterCardUK Central Bar RFH @ 1pm
Telegraph Music ‏@TeleMusicNews: The legendary #LouisArmstrong, in pictures http://ow.ly/B7DMx  #jazz #legend
BBC Proms Team ‏@bbcproms: Tonight at the #bbcproms, @BerlinPhil perform Rachmaninov and Stravinsky, conducted by Sir Simon Rattle: http://bbc.in/1rDMsZm
Classic FM @ClassicFM: Bit of fun – classical musicians with body parts in their names. We've had Br-arms & Toe-Knee Pappano. Any more? #ClassicalBodies @realaled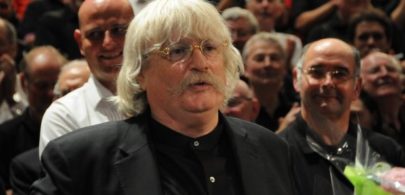 Karl Jenkins, Photo: Classic FM