In today's news: Radio 3 will be available for listeners as a lossless audio stream, D'Addario Orchestral announces launch of the new 'Ascenté' violin strings, and Kronberg Academy plans its own premises in Kronberg. Wayne Shorter composes first concert for clarinet and orchestra, Klavier-Festival Ruhr-Preis goes among others to Dennis Russell Davies, and Roberto Minczuk becomes the new Music Director of The New Mexico Philharmonic.
Classical Music Magazine
Radio 3 to offer Proms as lossless audio stream
Radio 3 will be available for listeners as a lossless audio stream – the highest audio quality ever used the BBC – for the duration of the Proms
The Violin Channel
Out Now – D'Addario New 'Ascenté' Synthetic Violin Strings
D'Addario Orchestral has announced the launch of the new 'Ascenté' violin strings – a full synthetic violin string set for string players of all levels and ages.
Cmus
Trumpet Cover of Bohemian Rhapsody is Gentle and Pleasant
YouTube sensation John Crowley has been perfect so far with his cover of Queen's Rhapsody.
Pizzicato
Kronberg Academy to build concert hall and study center
Twenty-five years after its founding, Kronberg Academy is planning its own premises in Kronberg (Hessen, near Frankfurt): a concert hall (Casals Forum) as well as an adjoining study and administrative centre.
Music Business Worldwide
Warner acquires songkick's concert discovery business
Concert discovery app Songkick has been acquired by Warner Music Group – but the buyout excludes the company's ticketing business, formerly known as Crowdsurge
Concerti
Das Festival "Montafoner Resonanzen" bringt die Region an sechs Wochenenden zum klingen – jedes Mal mit neuem musikalischen Schwerpunkt.
Klassik Heute
Uraufführung von Wayne Shorters erstem Klarinettenkonzert
Wayne Shorter hat sein erstes Konzert für Klarinette und Orchester komponiert.
Pizzicato
Klavier-Festival Ruhr-Preise für Dennis Russell Davies, Maki Namekawa und Philip Glass
Der Pianist und Dirigent Dennis Russell Davies, die Pianistin Maki Namekawa und der Komponist Philip Glass wurden mit dem Preis des Klavier-Festivals Ruhr ausgezeichnet.
Pizzicato
New Mexico Philharmonic hired Minczuk as Music Director
The New Mexico Philharmonic in Albuquerque, USA, announced Brazilian-born conductor Roberto Minczuk, 50, as new Music Director, effective from September 2017.
Cincinatti.com
CSO's Timothy Lees bows out of European tour
While Lees is out on medical leave, violinist David Halen, who is the concertmaster of the St. Louis Symphony, will perform as temporary concertmaster for the tour, which runs Aug. 22-Sept. 10.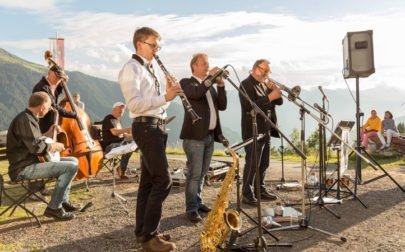 Jazz-Picknick bei den Montafoner Resonanzen © Andreas Haller/Montafon Tourismus GmbH
Twitter
#Today in 1924 Birth of #mezzosoprano Lilian #Benningsen. #MusicHistory #classicalmusic
Merken
Merken
Merken
Merken
Merken
Merken
Merken
Merken
Merken
Merken