In today's news: Sheku Kanneh-Mason, funds cello lessons at former school, Dame Kiri Te Kanawa receives Gramophone Lifetime Achievement Award, and King's Place to celebrate tenth anniversary with Time Unwrapped. Ensemble Aravà receives moderation award for old music , Festival String Lucerne remembers its founder, and soprano Kiri Te Kanawa retires.
Classic FM
Dame Kiri Te Kanawa given the Lifetime Achievement Award and Classic FM wins a Gramophone Award 2017
The 40th annual Gramophone Awards was a star-studded event celebrating the greatest names in classical music, including pianist Murray Perahia and mezzo-soprano Joyce DiDonato.
Pizzicato
Bramwell Tovey named director of orchestral activities at the Boston University
British conductor Bramwell Tovey, 64, the outgoing Music Director of the Vancouver Symphony Orchestra, takes a new post at the Boston University School of Music where he has been named director of orchestral activities. His first public rehearsal is scheduled for this Friday.
The Violin Channel
Former Minnesota Duluth Music Teacher Has Died from Accidental Overdose
Former Choral Director and Associate Music Professor at the University of Minnesota Duluth, Tina Thielen-Gaffey has passed away – aged just 50.
Music Teacher
Sheku Kanneh-Mason funds cello lessons at former school
The 18-year-old cellist, who has just started his studies at the Royal Academy of Music, donated £3,000 to Trinity Catholic School in Aspley, Nottingham after hearing that budget cuts could bring an end to cello teaching. The money, which was earned through playing engagements, will ensure that cello teaching continues at the school for the next three years.
International Piano
Yamaha launches AvantGrand NU1X
Yamaha has revealed the AvantGrand NU1X, the successor to the award-winning NU1.
Classical Music Magazine
King's Place to celebrate tenth anniversary with Time Unwrapped
King's Place will celebrate its tenth anniversary in 2018 with a year-long series dedicated to time.
Limelight
Opera Queensland announces its 2018 season
Lindy Hume will direct Don Giovanni in her final season as AD and Graeme Murphy's The Merry Widow comes to town.
Klassik.com
Ensemble Aravà erhält Moderationspreis für Alte Musik
Der Moderationspreis für Alte Musik, der in diesem Jahr zum ersten Mal vom Forum Alte Musik in Frankfurt am Main vergeben wurde, geht an das Ensemble Aravà.
Musik Heute
Neuer Präsident der Musikhochschule Nürnberg ernannt
Bayerns Kunstminister Ludwig Spaenle (CSU) hat dem neugewählten Präsidenten der Hochschule für Musik Nürnberg, Christoph Adt, am Mittwoch in München die Ernennungsurkunde überreicht.
Klassik Heute
Festival Strings Lucerne erinnern an ihren Gründer Rudolf Baumgartner
Heute wäre Rudolf Baumgartner (1917–2002) 100 Jahre alt geworden.
France Musique
La soprano Kiri Te Kanawa se retire de la scène
La chanteuse néo-zélandaise Kiri Te Kanawa a annoncé à la BBC le mercredi 13 septembre qu'elle prenait sa retraite, à l'âge de 73 ans.
Twitter
What a night! Read the full Gramophone Classical Music Awards 2017 report: http://bit.ly/2y0AUGQ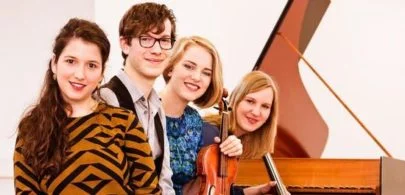 Ensemble Aravà © Jo Titze
Merken
Merken
Merken
Merken
Merken
Merken