Leamington Music 2019/20 Winter Season announced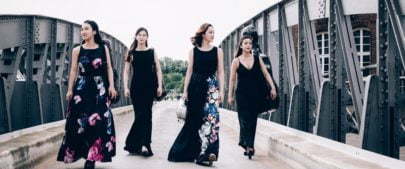 The 14th Leamington Music Winter Season has been announced and will begin on Friday 4 October 2019. Launching the season with a concert at Leamington's Royal Pump Rooms will be the Esmé String Quartet from Korea, winners of the 2018 London International String Quartet Competition.
---
Refugee Orchestra Project to make UK debut at LSO St Luke's
The Refugee Orchestra Project, an organisation that partners with local communities to proclaim the cultural and societal relevance of refugees through music, will make its UK debut on 1 September 2019 at LSO St Luke's, London. Founded in 2015 by conductor Lidiya Yankovskaya, who also serves as music director of Chicago Opera Theater, the ROP has taken its message of inclusion to hundreds of thousands of listeners around the world via live and streamed performances in New York, Boston, Washington D.C. and at the United Nations. The UK debut concert will raise money for London-based charity Refugee Action.
---
Wiener Domarchiv: Notenblätter nach Wasserschaden gerettet
Vor etwa einem Jahr wurden im Musikarchiv des Wiener Stephansdoms zahlreiche historische Notenblätter durch einen Wasserschaden schwer beschädigt. Der Grund war ein tropfender Wasserhahn, der für mehrere Wochen unbemerkt geblieben war. Nun ist es Musikwissenschaftlern der Österreichischen Akademie der Wissenschaften gelungen, die Schriftstücke zu restaurieren. Insgesamt 557 Signaturen wurden in den vergangenen Monaten von verwaschener Tinte, Schimmelflecken und Papierwellungen befreit.
Unter den beschädigten Noten befand sich auch ein Erstdruck von Joseph Haydns "Harmoniemesse", sowie Handschriftenoriginale von dessen Bruder Michael Haydn und Georg Reutters, Hofkapellmeister unter Maria Theresia. Domkapellmeister Markus Landerer zufolge waren vor allem Werke von dem Wasserschaden betroffen gewesen, welche 1945 am Ende des Krieges vor dem Brand am Stephansdom gerettet werden konnten.
Vienna Cathedral Archive: music  scores saved after water damage
About a year ago, the music archive of St. Stephen's Cathedral in Vienna was severely damaged by water damage to numerous historical music scores. The reason was a dripping tap that had gone unnoticed for several weeks. Now musicologists from the Austrian Academy of Sciences have succeeded in restoring the documents. A total of 557 score sheets have been cleared of washed-out ink, mould stains and paper curls in recent months.