London Music Masters waives group teacher training fee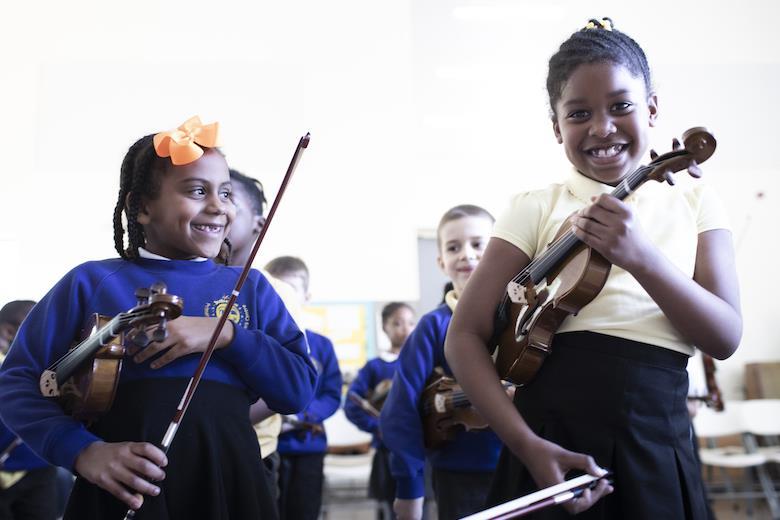 In response to the impact of Covid-19 on the arts, the music education charity will waive its course fee for the 2020/21 cohort of Team Teach.
The music education charity London Music Masters (LMM) has today announced that it will waive the entire course fee for the 2020/21 cohort of Team Teach, its one-year course in group instrument teaching, in response to the precarious impact of the Covid-19 pandemic on the arts.
London Music Masters has taken the decision to forgo the original Team Teach course fee of £2,750 as part of the charity's commitment to support the music teachers across the country and the continued growth of the sector. The charity has stressed that it is now more important than ever to have outstanding candidates join Team Teach.
LMM's Executive Director Rob Adediran said: 'Self-employed teachers have been some of the hardest hit financially by the economic upheaval caused by the coronavirus. Many of them fall between the cracks of the government's support. When this crisis is over, we will need a confident, equipped and resilient music teaching workforce to help reignite the creative voice of our nation's children. In recognition of this need, London Music Masters is entirely waiving the fees for its yearlong professional development programme, Team Teach, which is aimed at musicians who teach children in a group setting.'
---
Coronavirus: Sinfonieorchester Peking probt Wuhan-Komposition
Das Sinfonieorchester Beijing unter Dirigent Biao Li probt derzeit eine Komposition zu Wuhan – der Stadt, in der das Coronavirus ausbrach. Die Musiker sind aufgrund der Maßnahmen gegen die weitere Verbreitung des Virus bei den Proben über Video miteinander in Kontakt. Das Werk "WUHAN 2020. Symphonic Poem for Orchestra" stammt von dem deutschen Komponisten Enjott Schneider, der im Februar mit einem Orchesterwerk in voller Sinfonikbesetzung beauftragt worden war. Die Komposition soll die Gefühlswelten der vom Coronavirus betroffenen Gesellschaft widerspiegeln: Angst, Mut, Hoffnung und die "Bereitschaft, gegen diesen Schicksalsschlag anzukämpfen". Die Uraufführung der 10-minütigen Komposition soll in wenigen Tagen stattfinden, nachdem die ursprünglich geplanten Termine Anfang März mit dem Beijing Symphony Orchestra in Peking und einen Tag später in Tianjin mit dem Tianjin Symphony Orchestra abgesagt wurden. Es ist geplant, dass viele chinesiche Orchester das Stück künftig als Ouvertüre spielen, wenn die Konzertsaison weiter geht.
Coronavirus: Beijing Symphony Orchestra rehearses Wuhan composition
The Beijing Symphony Orchestra under conductor Biao Li is currently rehearsing a composition on Wuhan – the city where the corona virus broke out. The musicians are in contact with each other via video during the rehearsals due to the measures taken against the further spread of the virus. The work "WUHAN 2020th Symphonic Poem for Orchestra" is by the German composer Enjott Schneider, who was commissioned in February to write an orchestral work with a full symphonic instrumentation. The composition is intended to reflect the emotions of society affected by the coronavirus: Fear, courage, hope and the "willingness to fight against this stroke of fate". The world premiere of the 10-minute composition is scheduled to take place in a few days, after the originally planned dates at the beginning of March with the Beijing Symphony Orchestra in Beijing and one day later in Tianjin with the Tianjin Symphony Orchestra were cancelled. It is planned that many Chinese orchestras will play the piece as an overture in the future as the concert season continues.
---
De la musique sur les balcons de la France entière
Un balcon-concert, une aria à la fenêtre : chaque soir, d'un bout à l'autre de la France, le silence des longues heures de confinement est brisé par des artistes qui offrent une petite escapade musicale à leur voisins confinés. « Quand je vois le sourire que j'apporte chaque soir avec mon chant, ça fait plaisir ». Tous les jours, le ténor Stéphane Sénéchal chante à 19h une aria de la fenêtre de son appartement, situé dans le IXe arrondissement de Paris. « Toute la journée, on nous annonce des choses tragiques, des morts. Là quand je vois des sourires, je vois de l'espoir. C'est un petit moment de liberté, d'évasion », ajoute-t-il.
Music on balconies all over France
A concert balcony, an aria in the window: every evening, from one end of France to the other, the silence of the long hours of confinement is broken by artists who offer a little musical escapade to their confined neighbours. "When I see the smile I bring every night with my singing, it's a pleasure". Every day at 7pm, tenor Stéphane Sénéchal sings an aria from the window of his apartment in the 9th arrondissement of Paris. "All day long, tragic things are announced to us, dead people. There when I see smiles, I see hope. It's a little moment of freedom, of escape," he adds.