Classical music news round-up
The London Symphony Orchestra is the UK's most popular according to the first chart to rank classical ensembles, the i reports.
Recordings by the London institution, led by Sir Simon Rattle, have racked up the most plays on Britain's television and radio stations over the past decade, music licensing body PPL calculated.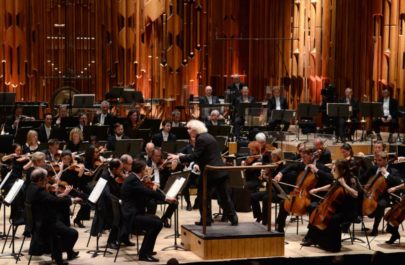 The LSO, which performs more than 120 concerts a year, finished ahead of the Royal Philharmonic and London Philharmonic orchestras.
PPL, which collects royalties from music radio and TV broadcasts, found that orchestras have to be versatile to make a popular impact. Just 40 per cent of the total UK radio and TV airplay over the decade, from recordings performed by the top 20 orchestras, was considered "classical" music.
One in three of the top 100 most played new recordings on TV and radio in each of the last ten years included a contribution from at least one member of the top 20 orchestras.
In 2017 almost half (47 per cent) of UK number one songs contained at least one performance from a member of the orchestral top 20.
(iNews)
---
Controversial new copyright laws have been approved by members of the European Parliament, reports the BBC.
Many musicians and creators claim the reforms are necessary to fairly compensate artists, but opponents fear that the plans could destroy user-generated content, memes and parodies.
Article 13 and its copyright filters have passed from EU Parliament. Now they stilll need to undergo a final vote and then get implemented by the member states based on their interpretations. It's hard to say what will happen to memes and parodies, but this surely doesn't help.

— Dr. Grandayy 🏥 (@grande1899) September 12, 2018
Article 13 puts the onus on web giants to take measures to ensure that agreements with rights holders for the use of their work are working.
Critics say that would require all internet platforms to filter content put online by users, which many believe would be an excessive restriction on free speech.
Earlier this week, YouTube's chief business officer Robert Kyncl said that endorsement of Article 13 risked "discouraging or even prohibiting platforms from hosting user-generated content".
Musician Wyclef Jean also spoke out against the directive, appealing to MEPs before the vote to "embrace and improve the internet, rather than attempt to block and hinder it".
But many other musicians, including Sir Paul McCartney, had expressed their support for the changes. Impala, the association for European independent music companies, said after the vote that it was "a great day for Europe's creators".
(BBC)
Final vote for Parliament position on the copyright directive with #UploadFilters and #LinkTax: adopted. Parliament has failed to listen to citizens' and experts' concerns. #SaveYourInternet pic.twitter.com/gtGi6rg5kL

— Julia Reda (@Senficon) September 12, 2018
---
Die Abgeordneten des EU-Parlamentes haben heute mit deutlicher Mehrheit von 438 zu 226 Stimmen für die geplante EU-Richtlinie zum Urheberrecht im digitalen Binnenmarkt gestimmt. Damit kann das Parlament die Trilog-Verhandlungen mit Europäischem Rat und EU-Kommission aufnehmen.
Dazu Christian Höppner, Generalsekretär des Deutschen Musikrates: "Der 12. September ist ein guter Tag für Europa und die Kreativschaffenden. Der Schutz der Urheber und die faire Vergütung kreativer Leistungen sind Voraussetzung dafür, dass weiterhin attraktive Inhalte produziert und bereitgestellt werden können. In den nächsten Monaten wird es darum gehen, den gesellschaftlichen Dialog zur Zukunft eines fairen Internets zu etablieren, der sich von dem bisherigen Schlagabtausch durch eine differenzierte und gesellschaftspolitisch grundierte Argumentation absetzen sollte."
Staatsministerin #Grütters: Die Entscheidung des @Europarl_DE zur #Urheberrechtsreform "geht in die richtige Richtung. Nun ist der Weg für eine Annäherung der Positionen geebnet. Die Anpassungen des EU-Urheberrechts an die Herausforderungen der digitalen Welt ist überfällig."

— BKM Kultur & Medien (@BundesKultur) September 12, 2018
MEPs voted today by a clear majority of 438 to 226 votes in favour of the proposed EU directive on copyright in the Digital Single Market. This will allow Parliament to start negotiations with the European Council and the European Commission.
Christian Höppner, Secretary General of the German Music Council: "September 12th is a good day for Europe and the creative industries. The protection of authors and the fair remuneration of creative achievements are a prerequisite for the continued production and provision of attractive content. In the coming months, it will be a question of establishing the social dialogue on the future of a fair Internet".
(Neue Musikzeitung)