Simon Rattle to open free school for young musicians in 2019
Sir Simon Rattle has revealed plans to create a new music school: the LSO East London Academy, reports Classic FM.
The Academy is being developed by the LSO and will open in 2019 in East London with the aim of identifying and nurturing young musical talent in the area.
It will offer free music training to promising musicians aged 11-18, to break down the financial barrier that prevents many talented young musicians from fully developing their craft.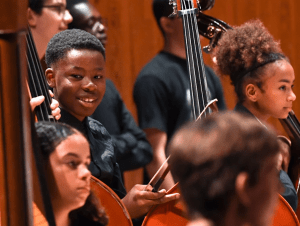 Sir Simon Rattle said:
"The LSO's education work is world-famous and rightly admired and copied. But we want to go much further. We know there is so much talent on our doorstep. We see these young people through our work every day in schools and the wider community.
"But they face some of the biggest social and financial barriers to realising their ambitions, and we want our programmes to constantly evolve to meet the challenge of being truly London's Symphony Orchestra."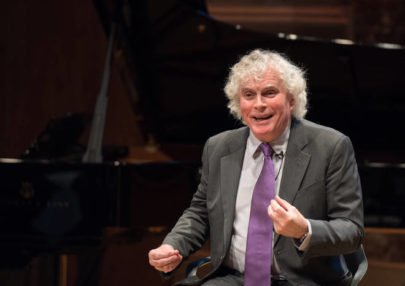 The Guardian also reported Rattle's claim that fewer Europeans are auditioning for orchestras because of Brexit:
"People aren't necessarily applying because they don't know what's going to happen, and when people ask the question, the answer from all of us is, 'We don't know'".
Thus, there is greater need for more home-grown talent, and another of Rattle's observations is that our orchestras are very rarely representative of our cities. "Why do our groups of classical musicians not look like London looks [sic], and what can we do about it?"
Bindi McFarlane, an LSO violinist, said it was a positive step, and hopes it will help combat the perceived elitism of classical music and increase diversity in the industry.
Sir Simon Rattle: We need initiatives like LSO East London Academy because we want to proactively build new talent from the ground up – no more 'build it and they will come'. This is about the whole journey of growth.

— London Symphony Orch (@londonsymphony) September 13, 2018
---
Die 29-jährige Mezzosopranistin Natalya Boeva hat beim ARD-Musikwettbewerb 2018 im Fach Gesang den Sieg errungen. Weitere Preise gingen an den Bass-Bariton Milan Siljanov, den Tenor Mingjie Lei und die Sopranistin Ylva Sofia Stenberg.
Vier junge Sängerinnen und Sänger standen am Mittwochabend, 12. September, im Herkulessaal der Münchner Residenz im Finale beim 67. Internationalen Musikwettbewerb der ARD im Fach Gesang. Die siebenköpfige Jury unter dem Vorsitz von Dame Ann Murray entschied, dass der mit 10.000 Euro dotierte erste Preis an Natalya Boeva aus Russland geht, wie der Veranstalter mitteilte.
Der mit 7.500 Euro dotierte zweite Preis ging an den Bass-Bariton Milan Siljanov aus der Schweiz, der auch den den Publikumspreis in Höhe von 1.500 Euro erhielt. Zwei mit jeweils 5.000 Euro dotierte dritte Preise gehen an den Tenor Mingjie Lei (China) und die Sopranistin Ylva Sofia Stenberg (Schweden)

Natalya Boeva sings "Olga's Aria" from Tchaikovsky's Evgeny Onegin.
29-year-old mezzo-soprano, Natalya Boeva, ​​won the ARD Music Competition 2018 in the vocal category. Other prizes went to bass-baritone Milan Siljanov, tenor Mingjie Lei and soprano Ylva Sofia Stenberg.
Four young singers were in the final at the 67th International Music Competition of the ARD in the vocal category on Wednesday evening, September 12, in the Munich Residenz. The seven-member jury, chaired by Dame Ann Murray, unanimously allocated the first prize, worth € 10,000, to Natalya Boeva ​​from Russia.
The second prize, worth 7,500 euros, went to bass baritone Milan Siljanov from Switzerland, who also received the Audience Award of 1,500 euros. Two third prizes, each worth 5,000 euros, go to tenor Mingjie Lei (China) and soprano Ylva Sofia Stenberg (Sweden).
(Via SWR)
---
This year's  prestigious Gramophone Classical Music Awards ceremony took place last night and was hosted by Editor-in-Chief James Jolly at the De Vere Grand Connaught Rooms, Covent Garden. The ceremony was broadcast worldwide by medici.tv.
The orchestra for the ceremony was the Estonian National Symphony Orchestra, conducted by Kristjan Järvi.
"We are musicians because of you."

A conducting dynasty. Heartfelt words for their father, Neeme, who receives this year's #GramoAwards Lifetime Achievement Award. pic.twitter.com/RsTvLUImv6

— Gramophone (@GramophoneMag) September 13, 2018
The full list of winners is as follows:
Lifetime Achievement Award
(Sponsored by Presto Classical)
Neeme Järvi
Orchestra of the Year Award
(Sponsored by Apple Music)
Seattle Symphony
Artist of the Year Award
Rachel Podger
Young Artist of the Year Award
Lise Davidsen
Label of the Year Award
(Sponsored by Classical Next)
Harmonia Mundi
Recording of the Year & Opera Award
(Sponsors: Qobuz (Recording of the Year Award); E. Gutzwiller & Cie, Banquiers (Opera Award))
Berlioz Les Troyens: Sols incl DiDonato, Spyres, Lemieux; Strasbourg Philharmonic Orchestra / John Nelson (Erato)
Chamber Award
(Sponsored by Kings Place)
Dvořák Quintets: Boris Giltburg; Pavel Nikl; Pavel Haas Quartet(Supraphon)
Choral Award
Pärt Magnificat. Nunc dimittis Schnittke Psalms of Repentance: Estonian Philharmonic Chamber Choir / Kaspars Putniņš (BIS)
Concerto Award
Bartók Violin Concertos Nos 1 & 2: Christian Tetzlaff; Finnish Radio Symphony Orchestra / Hannu Lintu (Ondine)
Contemporary Award
(Sponsored by PPL & PRS for Music)
Dusapin String Quartets Nos 6 & 7: Arditti Quartet; Orchestre Philharmonique de Radio France / Pascal Rophé (Aeon)
Early Music Award
'Music from the Peterhouse Partbooks, Vol 5': Blue Heron / Scott Metcalfe (Blue Heron)
Instrumental Award
Brahms Piano Pieces, Opp 76, 117 & 118: Arcadi Volodos (Sony Classical)
Orchestral Award
(Sponsored by IDAGIO)
Ravel Daphnis et Chloé: Ensemble Aedes; Les Siècles / François-Xavier Roth (Harmonia Mundi)
Recital Award
'Agitata': Delphine Galou; Accademia Bizantina / Ottavio Dantone(Alpha Classics)
Solo Vocal Award
(Sponsored by Mrs Joan Jones)
'Secrets': Marianne Crebassa; Fazıl Say (Erato)
(Via Gramophone)