On the evening of Wednesday 1stJuly, the pianist Lucas Debargue was awarded an unexpected 4th prize in the final of the fifteenth edition of the Tchaikovsky International Competition. The self-taught pianist was not expected to win when the contestants reached the final concerto stage since he had never played with an orchestra before, and his incredibly unconventional jazz technique irritated more than a few orthodox piano teachers and judges. Two eminent Russian judges on the panel praised him as a wonder for all his flaws though. Dmitri Bashkirov, even declared that Lucas Debargue will soon be considered one of the greatest pianists of our times.
The Moscow Music Critics Association, unsatisfied by the judgement, presented him with its prestigious award for his performances during the competition, which "has become an event of genuine musical significance" and to salute a pianists "whose incredible gift, artistic vision and creative freedom have impressed the critics as well as the audience." Lucas Debargue stole the heart of the Russian public during the competition, even astonishing chairman Valery Gergiev, who broke the protocol by inviting him to play alongside the winners in a recital at the Mariinsky on 14th July.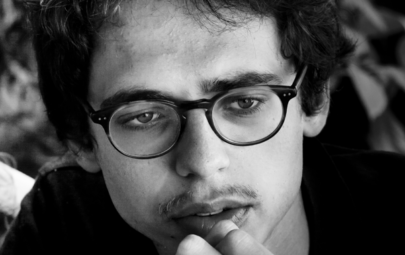 Photo credit: Bernard Bonnefon
The self-taught young pianist started playing with friends as a child before being accepted into a conservatoire, but didn't learn any instrumental technique there! He used to learn Prokofiev's sonatas by heart and played it faultlessly, admitting himself, "for Rachmaninoff's 3rd concert it's impossible, we can't learn 15 000 different directions. […] But I always learn by ear!" He gave up the piano at the age of 16 and worked in a supermarket to pay for his literature studies. He finally restarted at the age of 20 in a disciplined, professional way to prepare for the Tchaikovsky International Competition and ended up four years later in 4th place, playing with what the media defined as an "unmissable style"
Since the competition, the enthusiasm of the audience and the media has grown, enhanced by a wave in social media. Aside from the unusual path he has taken, it's his personal interpretation of the music that marvels. Recently he has given interviews with both France Musique and Parlons Piano to talk about interpretation. "I think there is a sacrifice to made" he said, "If you want to perfectly execute a piano piece, then you will have to sacrifice the music. Because the pianist puts himself under the spotlights and says "look how well I can play", but there is no music and the truth is that when you play, you should not know what is coming next in the music". He explains, that after working hard for hours on a piece, after knowing all the notes, silences and nuances, the only thing to be done is to jump without a parachute, submerged in the music. " I don't pursue technical perfection in a difficult piece […]. What is important, is to be carried by the music, to be active in its reception without anticipating what is coming next at all." And quoting Aristotle, he added "the more violent act between letting an object fall and catching it again, is to catch it, because there is nothing more natural on earth than gravity. With music, it's the same."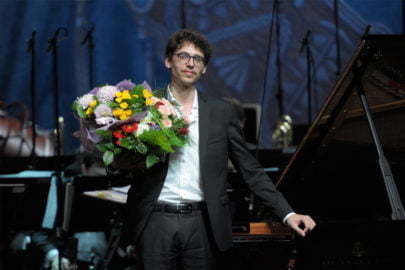 Photo credit: Mariinski Theatre
In any case, in this strict orthodox world that is the pianistic sphere, it is nice to have this different approach being recognized for a change. Interpretation and music should speak over technique and the difficulty of a composition. After all, if music is understood as an infinite space of freedom of speech, we should be welcoming a pianist who is already proposing an original and unique language.