In today's news: Should people clap between movements, and does it matter? Sergei Babayan signed to Deutsche Grammophon, and top tips for attending the Proms. Ludwigsburger Schlossfestspiele sees audience numbers increase. Women in the history of classical music. The new Bochumer Symphoniker concert hall. Classical music study in Spain claims that the classical music world needs to change significantly to survive. Anna Meredith on her composition for the opening of the Proms and the Edinburgh Festival. Should classical music concerts be less 'stuffy'?
The Guardian
For a 21st-century Proms, we must let the people clap when they want
Fusty, dusty old rules about when to applaud need to be ditched if we're ever to bring new audiences into classical music
Rhinegold
Pianist Sergei Babayan signs to Deutsche Grammophon
Armenian-American pianist Sergei Babayan has signed a recording contract with Deutsche Grammophon.
Classical-Music.com (BBC Music Magazine)
5 top tips for attending the BBC Proms
The BBC Music Magazine team shares its advice for making the most of a visit to the Royal Albert Hall.
Official Charts
The British music industry announces National Album Day celebrations set for October
Meet Record Store Day's new sister celebrating 70 years of the album.
The New York Times
It Was Russia's Most Popular Opera. Then It Disappeared.
Anton Rubinstein's 1871 opera, "Demon," is a tried-and-true 19th-century plot with a religious twist: A fallen angel seeks redemption through a woman's love. In Russia, it was the most popular opera of its day. Then it disappeared.
Concerti
Starke Frauen in der Musikgeschichte gab es wenige? Von wegen! In unserer Sommerreihe dreht sich ab sofort alles um Komponistinnen
Der Tagesspiegel
Die Bochumer Symphoniker feiern ihr 100-jähriges Gründungsjubiläum. Zuletzt haben sie für einen neuen Konzertsaal gekämpft – es hat sich gelohnt.
klassik.com
Ludwigsburger Schlossfestspiele mit positiver Bilanz
Die Ludwigsburger Schlossfestspiele haben die aktuelle Spielzeit mit einem positiven Ergebnis abgeschlossen.
El País
El 'big data' prueba el conservadurismo en la música clásica en vivo
El estudio de un musicólogo español demuestra a partir del estudio de casi 5.000 conciertos que un puñado de grandes nombres domina las programaciones. Seis compositores copan el 20% de los programas
Twitter
#Today in 1757 Death of Italian #composer Domenico #Scarlatti in Madrid. #MusicHistory #classicalmusic pic.twitter.com/5kYhKujdpw

— Music History (@today_classical) July 23, 2018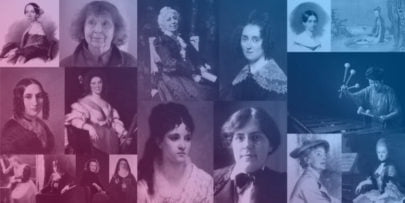 Collage Komponistinnen © gemeinfrei (13), F. Hoffmann La Roche Ltd., Yamaha, shutterstock, Christophe Abramowitz