The British violinist offers a deeply personal collection of recordings, featuring contemporary works from an international circle of composers and friends
Madeleine Mitchell will release her upcoming album "Violin Conversations" with Naxos on 23 June 2023. Described by The Times as 'one of the UK's liveliest musical forces (and) foremost violinists', Mitchell's highly personal upcoming release shines a light on a fine collection of violin pieces, including eight world premiere recordings, six of which were  written specially for her.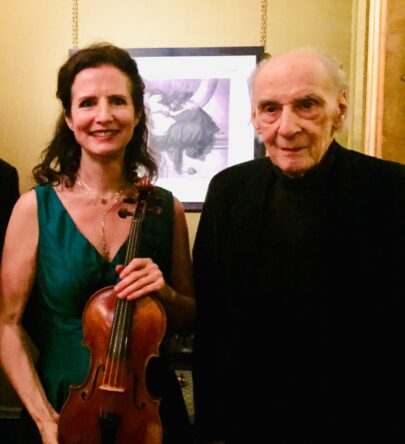 American-Australian composer Douglas Knehans' Mist Waves is an expressive work for violin and piano which he describes as relating to a land-based cloud, forming in waves, serving as a metaphor for a type of human consciousness. Martin Butler's Barcarolles, is a fantasy inspired by folk songs traditionally sung on the water by Venetian gondoliers. Richard Blackford's Worlds Apart was written for Mitchell and Nicholas Snowman in 2020, commissioned to support Help Musicians (UK) during the Covid-19 pandemic. The title refers to the enforced separation of families, lovers and friends during the period of lockdown. American Kevin Malone's piece for violin and on-hold sounds, Your Call is Important To Us uses phone recordings of call-waiting collected by the composer over three years. The violin part reflecting the increased frustration in music is akin to L'Histoire du Soldat by Stravinsky. Errollyn Wallen's Sojourner Truth, supported by the RVW Trust, takes as its inspiration the spirit of Sojourner Truth (1797–1883) who was born into slavery and went on to become a prominent American abolitionist and women's rights activist, using a slave song.  Howard Blake's The Ice Princess and the Snowman. Blake, a close collaborator of Mitchell, noted that when 'The Snowman' was made into a ballet it was felt the second act needed this new pas de deux love duet with the Ice Princess. 
"Violin Conversations" is a unique portrait of Mitchell's legacy from working closely with living composers in a variety of styles, and the dialogues between them. Mitchell's love of art is reflected in the album cover, which is a painting by her late Mother, Evelyn Mitchell née Jones (1924–2020).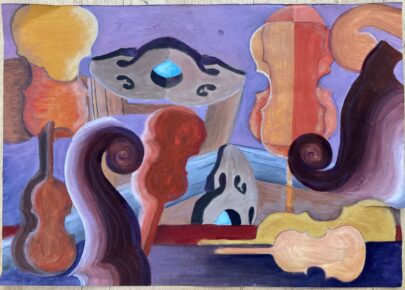 In line with the theme of musical conversations (or colloquy), four of the works feature the composers themselves as pianists: Errollyn Wallen, Martin Butler and Howard Blake, as well as Australian composer Wendy Hisocks, who Mitchell also worked closely with on her solo caprice. Alongside compositions by some of today's most renowned living composers, the album also includes works from and tributes to  friends and colleagues of the violinist who have passed away. The performance of Alan Rawsthorne's Violin Sonata features pianist Andrew Ball, with whom Madeleine had an important duo partnership for 20 years in a wide repertoire. The live BBC recording is a tribute to Ball who died in 2022. 
This piece, and Thea Musgrave's Colloquy (premiered at the same concert in 1960), are two fine classics of mid-20th century violin repertoire to which are added two short unrecorded pieces by Howard Blake and Joseph Horovitz (1926-2022), close associates of Mitchell throughout  her career.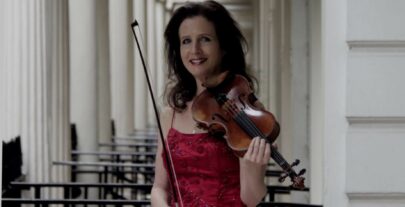 Mitchell will perform works from the album in upcoming concerts, as well as a new work written for her by Lord Michael Berkeley, Notes on the loss of a friend: In Memoriam Nicholas Snowman (1944-2023). Snowman was a dear friend of both Mitchell and Berkeley, and was a board member of Mitchell's Red Violin festival. 
Madeleine Mitchell will be performing with pianist Nigel Clayton at St John's Smith Square this weekend as part of the Easter Festival. The programme includes James MacMillan's Kiss on Wood, which was written for her, Vaughan Williams' The Lark Ascending plus works by Brahms and Rachmaninoff. More details can be found here.