Classical News
Guardian
A very brief guide to the world's first 'mindfulness opera'
Lost in Thought aims to 'stretch the boundaries of what opera can be', which seemingly includes 'a yoga session'
Classical Music Magazine
Martyn Rose to step down from funding-hit ENO
The chairman of English National Opera, Martyn Rose, is expected to step down at a board meeting held today, reportedly because he believes that a full-time commitment is required to guide the organisation through its £5m drop in Arts Council England funding.
Classical Source
Alexander Shelley appointed as Principal Associate Conductor of the Royal Philharmonic Orchestra
The Royal Philharmonic Orchestra is proud to announce the appointment of Alexander Shelley, "a conductor of superlative gifts", as its new Principal Associate Conductor.
Sinfini
New piano unveiled in Budapest
A Hungarian pianist has unveiled a futuristic new piano of his own invention inspired by Liszt
International Arts Manager
BBC to feature Sir Simon Rattle at 60
BBC Two, BBC Four and BBC Radio 3 are set to mark the 60th birthday celebrations of famed conductor Sir Simon Rattle with a special series of programmes during January and February 2015.
Der Tagesspiegel
Mecklenburg-Vorpommern spart seine Theater kaputt. Am Donnerstag will eine Demo in Neustrelitz die Politik aufrütteln.
Die Welt
Der Turbopianist und sein Nahkampfspray
Zu Turnschuhen, Füllern und Playstations hat der umjubelte Pianist Lang Lang schon "inspiriert", jetzt war es Zeit für ein Parfum.
concerti
Wo der Meister einst durch die heiligen Hallen tobte
Der Zauber des Bachfests Leipzig liegt in der Einbeziehung der ganzen Stadt
pizzicato
Deutsche Orchester engagieren sich immer mehr für Kinder und Jugendliche
Zwei Prozent weniger Veranstaltungen insgesamt und eine zunehmende Zahl an Musikvermittlungskonzerten: Das sind die Eckwerte der Konzertstatistik, welche die Deutsche Orchestervereinigung (DOV) heute vorgestellt hat.
The Washington Post
Ward Swingle, musician who made Bach swing, dies at 87
Ward Swingle, who formed a singing group that reimagined Bach and Mozart with driving jazz rhythms and playfully scatlike vocals — and that put centuries-old classical masterworks on the pop charts alongside the Beatles — died Jan. 19 in Eastbourne, England.
Twitter
Royal College Music ‏@RCMLatest: Our @listenexp project with @OpenUniversity & @ahrcpress aims to build a database of personal listening experiences: http://bit.ly/1J79JtQ 
Help Musicians UK ‏@HelpMusiciansUK: Great to see physical music sales on the up, with HMV leading the way: http://bit.ly/1wlXZL7 
Classic FM @ClassicFM: In need of a boost? These are the happiest pieces of classical music. Fact. http://classfm.co/6isdBT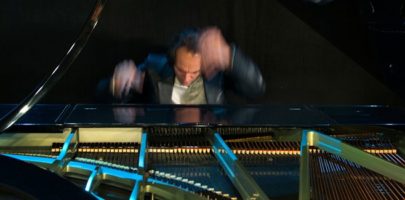 The 'Bogányi' piano. Photo: Sinfini