Telegraph
What can maths teach us about music?
A brilliant lecture by Marcus de Sautoy on music and maths gets Ivan Hewett thinking
Telegraph
Sir John Eliot Gardiner on Bach, Cambridge and the Prince of Wales
Conductor Sir John Eliot Gardiner talks about reading history at Cambridge, living in Lebanon and how he keeps fit
New York Times
Silent Star Gets Full Orchestration
Tribute to Charlie Chaplin, the Composer
Guardian
Atlanta Symphony Orchestra's crisis matters for orchestras everywhere
The musicians are locked out, the conductor devastated: this world-class orchestra's dispute has devastating implications
Pizzicato
Violinist Augustin Hadelich Is Now An American Citizen
German born violinist Augustin Hadelich, 30, who is living in the United States since 10 years, has been sworn in as American citizen.
New York Times
Labor War Over, Met's Operatic Army Mobilizes
The Met Prepares for Opening Night
Classicalite
Underwater Speakers Play Debussy, Ravel, Mendelssohn and More at Park Hyatt New York Hotel
The newly opened luxury hotel Park Hyatt New York's indoor pool could be your next favorite listening station.
Kultur.port
Krönender Abschluss in der Konzertkirche Neubrandenburg
Mit der aktuellen Saison übernimmt Andrew Manze die Position des Chefdirigenten des Orchesters.
Classicpoint.ch
Die 27. Bachwochen Thun mit erfolgreicher Bilanz – rund 30 % mehr Besucher im Vergleich zum Vorjahr
Die diesjährigen Bachwochen Thun können einen deutlichen Besucheranstieg aufweisen.
Concerti
"Man ist unter ständiger Beobachtung"
INTERVIEW Elīna Garanča
Twitter
Classic FM @ClassicFM: For your Friday, divas…. The 10 worst things about being a soprano: http://classfm.co/o3QUer 
Guardian Classical ‏@GdnClassical: Readers recommend: songs about reversing | Peter Kimpton http://gu.com/p/4xj8v
Telegraph Music ‏@TeleMusicNews: British #Jazz star Kenny Wheeler has died bit.ly/YXE38M #KennyWheeler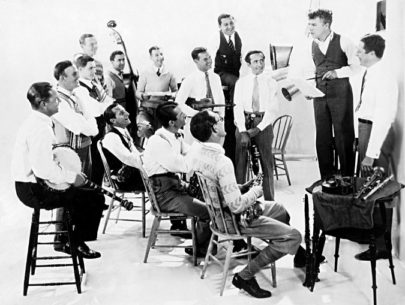 Charlie Chaplin, standing on chair,  discussing his compositions for his film "The Gold Rush". Photo: The New York Times