Speaking at the Royal College of Music, Maxim Vengerov told Classic FM: "Music education empowers kids with two very important things – they are being creative by playing instruments and they are concentrating which will, one way or another, affect their further studies."
The violinist was speaking after the annual President's Visit when the Royal College of Music's President, His Royal Highness The Prince of Wales, visits the institution and awards prizes and honorary fellowships and doctorates.
Vengerov was made an Honorary Doctor of the Royal College of Music, something which he said was "the greatest privilege".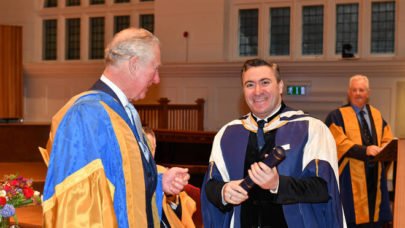 Music education was a theme that ran through the ceremony itself. The director of the Royal College of Music, Colin Lawson, spoke about the issue: "Last October, our Chairman Lord Black led a widely reported debate in the House of Lords noting that 'instead of music being a fundamental right of all children, it is rapidly becoming the reserve of the privileged few' at Independent schools as it dies out in the state sector.
"Music matters first and foremost because it is the only universal language which connects all human begins, whether they live and work in a bustling city or dwell on the plains of a desert."
Other musicians honoured during the ceremony included pianist Dina Parakhina, violinist Ani Schnarch and baroque flute player Wilbert Hazelzet, who were all made Fellows of the RCM.
The RCM also used the occasion to showcase the space that will become their new 150-seat Performance Hall.
---
medici.tv, the world's leading classical music channel, will livestream the 2019 Carl Nielsen International Competition from March 21 – 31 2019.
The livestream will bring together an international community of music lovers from over 180 countries to medici.tv and on social media using the hashtag #Nielsen2019. medici.tv will also create blog posts and behind-the-scenes video content with information on Carl Nielsen (pictured), the competition, past winners, current participants, and the jury. All rounds of the competition will be livestreamed and available for replay on medici.tv for three years, accessible in three languages: English, Russian and Mandarin Chinese.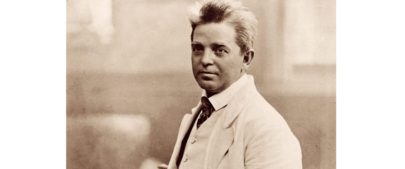 The competition, taking place in Odense, Denmark, will be opened by celebrated violinist and conductor Nikolaj Szeps-Znaider on March 21, conducting members of the Carl Nielsen Youth Academy and the Odense Symphony Orchestra with violinists Jiyoon Lee and Liya Petrova, winners of the 2016 Nielsen International Competition. Szeps-Znaider said: 'Not only is this city the birth place of Carl Nielsen but it is also thanks to members of the local community – who realised the young composer's talent and supported him financially – that we can enjoy his legacy today.'
Out of 492 applications, 72 musicians from 26 countries were selected by a jury including competition president and previous prize winner Szeps-Znaider, clarinetist Martin Fröst and flutist Emmanuel Pahud. The musicians selected include 24 violinists, 24 flutists and 24 clarinetists, ranging in age from 16 to 29 years old.
The competition will conclude with the prize ceremony on March 31 and winners will be selected by an esteemed international jury including Nurit Bar-Josef, Sally Beamish, Ingrid Fliter, Sergey Khachatryan and Karl-Heinz Schütz.
---
Le compositeur et pianiste français Jacques Loussier, grand artisan du rapprochement entre jazz et musique classique, est décédé mardi 5 mars au soir à l'âge de 84 ans, a annoncé à l'AFP son épouse Elizabeth.
Artiste inclassable réputé notamment pour ses adaptations jazz de Jean-Sébastien Bach, lorsque Jacques Loussier dirigeait le trio "Play Bach", fondé en 1959 avec le contrebassiste Pierre Michelot (disparu en 2005) et le batteur Christian Garros (décédé en 1988), il a mené une carrière internationale riche de 3.000 concerts et plus de 7 millions d'albums vendus.
Mais cet artiste en marge des circuits traditionnels du jazz s'est aussi illustré en tant que membre d'orchestres de music-hall, et compositeur de plus d'une centaine de morceaux pour le cinéma et la télévision, dont le célèbre générique de la série culte Thierry La Fronde .
"Jacques Loussier a eu cette idée de génie à l'époque d'adapter Bach en jazz, et il a eu du succès dans le monde entier. La musique de Jean-Sébastien Bach swingue beaucoup et c'est peut être notre premier jazzman", a expliqué  à l'AFP Pascal Anquetil, journaliste à Jazz Magazine.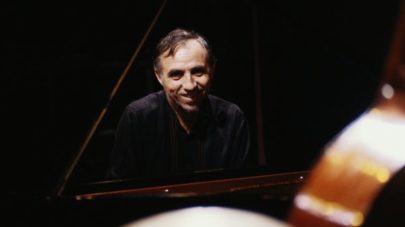 French composer and pianist Jacques Loussier died on Tuesday evening, March 5th, at the age of 84. Loussier was renowned in particular for his jazz adaptations of Johann Sebastian Bach. In addition to the work of Johann Sebastian Bach, he also adapted the work of other great masters of classical music such as Vivaldi, Ravel, Satie, Debussy and Schumann.