Classical News
Guardian
Met Opera rejects antisemitism claims rising from Klinghoffer protests
In the face of protests by politicians and Jewish organisations who have described it as "an operatic Kristallnacht", The Death of Klinghoffer makes its debut at New York City's Metropolitan Opera on Monday.
Classic FM
The Music Teacher Awards for Excellence: Get your nominations in now
Nominations for the Music Teacher Awards for Excellence close this Friday, and Classic FM is sponsoring the 'Best Classical Music Education Initiative Award' category.
BBC Music Magazine
British Composer Awards shortlists announced
Multi-award winner Harrison Birtwistle strikes again
Classical Music Magazine
'It's like the Tardis' ‒ RNCM completes £7.1m transformation of concert hall and theatre
The Royal Northern College of Music has completed a £7.1m rebuild of the interior of its concert hall, along with extensive new backstage space for its opera theatre and new student facilities.
Die Welt
Muslima im Publikum? Wo kommen wir denn da hin!
Die Pariser Bastille-Oper hat eine Frau mit Burka aus der Vorstellung geworfen.
Spiegel Online
Oppositioneller Pianist: Türkisches Ministerium streicht Fazil-Say-Kompositionen
Fazil Say ist nicht nur der prominenteste klassische Musiker der Türkei, sondern auch einer der bekanntesten Kritiker der Regierung.
Codex Flores
Die Lufthansa verschlampt ein Violoncello
Bange Tage für den Cellisten Lachezar Kostov, einem Mitglied der San Antonio Symphony.
The New York Times
Protests Greet Met Opera's Premiere of 'Klinghoffer'
At the Metropolitan Opera's first performance of John Adams's "The Death of Klinghoffer" on Monday night, men and women in evening attire walked through a maze of police barricades, while protesters shouted "Shame!" and "Terror is not art!" One demonstrator held aloft a white handkerchief splattered with red.
Twitter
Classic FM @ClassicFM: 20 beautiful pictures of the intricate craft of violin making… http://classfm.co/GN3RbV 
BBCMusicClips @BBCMusicClips: For @BBCRadio3 Live in Concert, Angela Hewitt performs Albéniz: Suite Española live at Wigmore Hall: http://bbc.in/1DsLIe5 
Sinfini Music @SinfiniMusic: 'Don't be boring: don't be rude': @bachtrack's write-up of the @instofideas' panel event on criticism this Sat: http://bit.ly/ZMlYud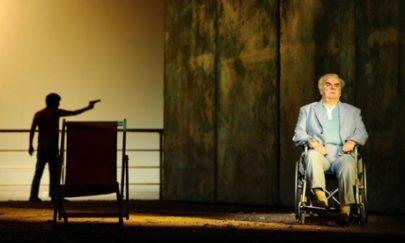 Alan Opie plays Leon Klinghoffer and Jesse Kovarksy plays Omar perform at the ENO in London in February 2012. Photograph: Dylan Martinez/Reuters