Music and dance therapy should be offered to dementia patients, research shows
Music and dance sessions should be prescribed to more dementia patients in order to prevent 'over-medicalised' treatment, according to the Health Secretary.
The announcement follows a recent study that found giving patients personal music playlists resulted in a 60 per cent reduction in the need for medication.
Matt Hancock, the Secretary of State for Health and Social Care, has previously called on GPs to use music to reduce stress and agitation in patients, as doctors were 'dishing out' too many pills.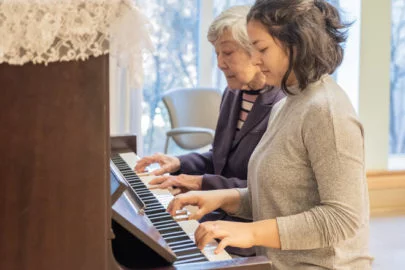 Following a reception hosted by the Prince of Wales at Clarence House, he said: "In particular, I want to combat over-medicalisation and dishing out pills when it's not in the best interests of the patient.
"There is increasing evidence suggesting music can bring calm to people with dementia by reducing agitation and supporting those affected to cope better with symptoms. This is the kind of personalised care that I fully endorse as a key part of our NHS long term plan."
Dementia affects more than 850,000 people in the UK each year – a figure which is set to soar to over a million by 2025. A new national campaign, 'Music for Dementia 2020', has just been launched with the aim of making music available to everyone living with dementia by 2020.
---
HarrisonParrott to launch foundation supporting diversity and inclusivity
HarrisonParrott has announced their latest initiative: the HarrisonParrott Foundation, which will focus on the company's mission to support and champion diversity and inclusivity within the arts.
Figures from the last British census showed that the UK was 14% non-white and London's population was over 40% BME, yet BME representation across the creative industries had fallen to just 5.4%. HarrisonParrott is partnering with organisations who work day-in, day-out to combat these issues: the Tri-Borough Music Hub, which manages the delivery of subsidised music education in three West London boroughs, and Creative Access, which supports young people from black and other non-white minority ethnic backgrounds as well as those with a lower socioeconomic status to secure professional opportunities in the creative sector.
---
John Adams, Premio Fundación BBVA Fronteras del Conocimiento en Música
El compositor estadounidense John Adams (Massachusetts, 1947) ha sido distinguido este martes con el XI Premio Fundación BBVA Fronteras del conocimiento, en la modalidad de Música y Ópera. El galardón le ha sido otorgado por componer "una música que es genuinamente de nuestro tiempo, y siempre lo ha sido, desde finales del siglo XX al siglo XXI". El premio está dotado con 400.000 euros y este año se entregará en el Palacio Euskalduna de Bilbao, el día 18 de junio.
John Adams es autor de celebradas óperas como Nixon in China (1987) o Doctor Atomic (2005). La Fundación BBVA, a través del jurado de este premio, ha reconocido su trayectoria como "un comunicador extraordinario, como compositor y director, alcanzando a públicos de una forma que democratiza la música contemporánea sin ninguna pérdida de integridad formal y complejidad musical".
American composer John Adams (born Massachusetts, 1947) has been awarded with the 11th BBVA Foundation Frontiers of Knowledge award, in the Music and Opera category. The award has been granted for composing 'music that is genuinely of our time, and always has been, from the end of the 20th century to the 21st century'. The prize is worth €400,000 and this year it will be presented in the Euskalduna Palace in Bilbao, on 18th June. 
John Adams is the author of celebrated operas such as Nixon in China (1987) and Doctor Atomic (2005). The BBVA Foundation, through the jury of this award, has recognised Adams' career as 'an extraordinary communicator, as a composer and conductor, reaching the public in a way that democratizes contemporary music without losing formal integrity and musical integrity'.