For the first time ever, play in unison with some of the greatest artists of Naxos' repertoire! Emblematic tracks from Naxos and its distributed labels will now be available on the rising music platform, NomadPlay!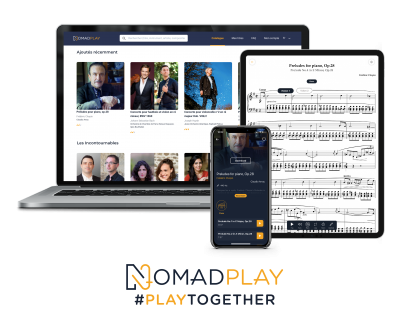 A considerable development of the catalogue
The NomadPlay library already included nearly 2,000 titles recorded in the studio or live and more than two hundred artists and partner orchestras, including the Orchestre National d'Île-de-France, Renaud Capuçon, the Paris Chamber Orchestra and the Talens Lyriques. Thanks to this new partnership, the application can now host a selection of prestigious recordings from Naxos Records, but also from labels it owns or distributes such as Pentatone, SWR, OehmsClassics, ORFEO International, Capriccio…
On NomadPlay, musicians, amateurs and professionals alike, will have the chance to play alongside their favourite artists from the Naxos catalogue, in a variety of repertoires. From instrumental music to chamber music, the integration of this new content will take place gradually, due to the importance of the catalogue retained and distributed by the label.
To begin with, throughout the month of December 2020, NomadPlay put online the 24 Preludes op.28 by Chopin recorded by one of the greatest pianists of the 20th century, Claudio Arrau. The addition of new titles and artists will continue through early 2021 with Beethoven's Piano Sonatas performed by Paul Badura-Skoda, Bach's Sonatas and Partitas by the Dutch violinist Lucy Van Dael and some recordings by Sviatoslav Richter.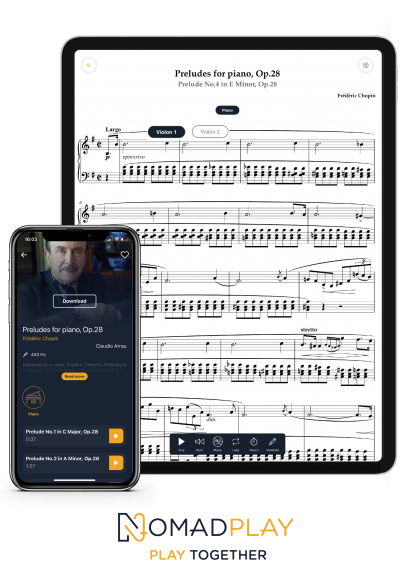 More than a partnership, a common vision
The new business model represented by NomadPlay has been the driving force behind the partnership with Naxos. Indeed, the application, which operates as a streaming platform, applies a user centric remuneration system (payment of artists and labels for each real reading) which is deemed fairer than the data centric model (on a pro rata basis), followed by streaming platforms such as Spotify.
Matthias Lutzweiler, CEO of Naxos Germany, explains: "I am particularly pleased with the integration of Naxos, and its affiliated and distributed labels, in such an innovative application as NomadPlay. Our goal as a classical label – to give access to music to all music lovers – is in line with the values behind NomadPlay in an exciting synergy."
For Naxos, this partnership is a way to give access to the content of their artists but also to create a new relationship with classical music audiences, while allowing NomadPlay users to immerse themselves in a unique musical experience.
As for NomadPlay, it is above all about offering musicians the pleasure of immersing themselves in a musical experiences alongside world-famous artists, produced and distributed by labels, in ever more varied repertoires.
"We are delighted to welcome Naxos and its affiliated and distributed labels to NomadPlay. The catalogue is thus enriched with a wide repertoire, performed by internationally renowned artists. I am delighted that a major record company like Naxos trusts a French startup such as ours, and is keen to open up the classical music repertoire to as many people as possible thanks to our innovation." Clothilde Chalot, CEO of NomadPlay
---
Naxos, weltweit führender Anbieter von Aufnahmen klassischer Musik, unterzeichnet Eintrag in den digitalen Katalog von NomadPlay
Spielen Sie endlich zusammen mit einigen der größten Naxos-Künstler*innen und ihrem Repertoire! Ikonische Stücke von Naxos und seinen vertriebenen Labels werden jetzt auf der aufstrebenden Musikplattform NomadPlay verfügbar sein
Eine beachtliche Entwicklung des Katalogs
Die Bibliothek von NomadPlay hatte bereits mehr als 2.000 Titel aufgenommen, im Studio oder live, mit etwa zweihundert Künstlern und Partnerorchestern, darunter das Orchestre National d'Île-de- France, Renaud Capuçon und die Talens Lyriques. Dank dieser neuen Partnerschaft enthält die App seit Dezember 2020 eine erste Auswahl renommierter Aufnahmen aus Naxos, aber auch Titel von Labels, die Naxos gehören oder von Naxos vertrieben werden, wie Pentatone, SWR, OehmsClassics, ORFEO International oder Capriccio.
Auf NomadPlay haben Amateurmusiker*innen und Profis die Möglichkeit, zusammen mit ihren Lieblingskünstler*innen aus dem Naxos-Katalog eine Vielzahl von Repertoires zu spielen. Von der Instrumental- bis zur Kammermusik wird die Integration dieser neuen Inhalte schrittweise erfolgen, aufgrund des Umfangs des vom Label produzierten und vertriebenen Katalogs.
Im Dezember hat NomadPlay zunächst die 24 Präludien Op.28 von Chopin hochgeladen, die mit einem der größten Pianisten des 20. Jahrhunderts, Claudio Arrau, aufgenommen wurden. Die Aufnahme neuer Titel und Künstler wird in diesem Winter mit Beethovens Klaviersonaten in der Interpretation von Paul Badura-Skoda, Bachs Sonaten und Partiten durch die holländische Geigerin Lucy Van Dael und einigen Einspielungen von Sviatoslav Richter fortgesetzt.
Mehr als eine Partnerschaft – eine gemeinsame Vision
Das neue Geschäftsmodell von NomadPlay war die treibende Kraft hinter der Partnerschaft mit Naxos. In der Tat wendet die Anwendung, die wie eine Streaming-Plattform funktioniert, ein nutzerzentriertes Vergütungssystem an (Bezahlung von Künstlern und Labels für jedes echte Play), das als fairer angesehen wird als das datenzentrierte Modell (anteilig), das von Plattformen wie Spotify verfolgt wird.
Matthias Lutzweiler, CEO Naxos Deutschland, erklärte: "Ich freue mich sehr über die Einbeziehung des Naxos-Labels und seiner angeschlossenen und vertriebenen Labels, in eine so innovative App wie NomadPlay. Unser Ziel als Klassik-Label, allen Musikliebhabern den Zugang zur Musik zu ermöglichen, trifft mit spannender Synergie die Werte, die den Ursprung von NomadPlay bilden"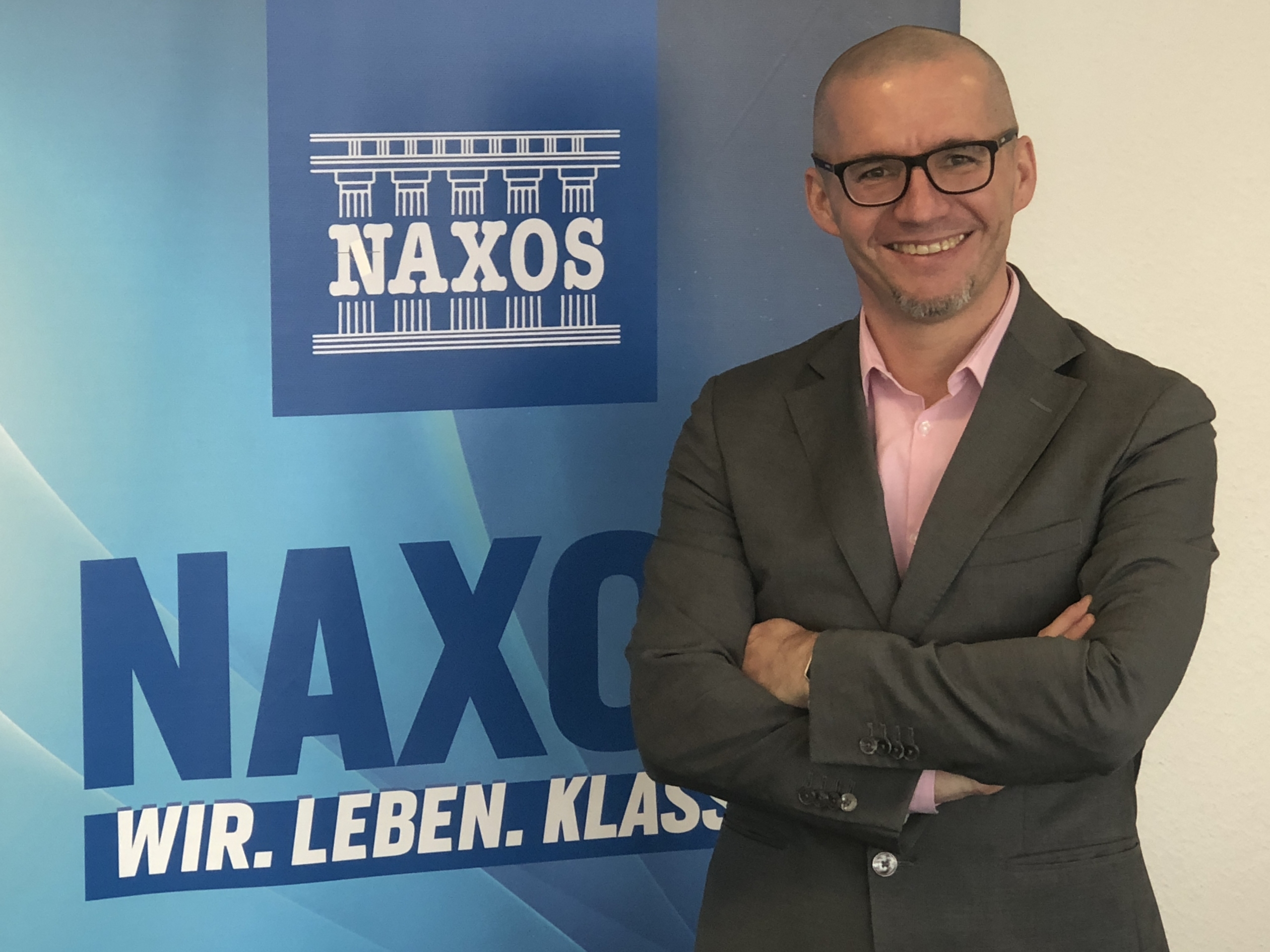 Für Naxos dient diese Partnerschaft als Möglichkeit, die Inhalte seiner Künstler einer breiteren Öffentlichkeit zur Verfügung zu stellen aber auch eine neue Beziehung zum Klassik-Publikum aufzubauen. Gleichzeitig wird den Nutzer*innen von NomadPlay ermöglicht, in ein einzigartiges Musikerlebnis einzutauchen.
Für NomadPlay geht es vor allem darum, Musikern das Vergnügen zu bieten, in ein musikalisches Erlebnis an der Seite von weltbekannten Künstlern einzutauchen, die von dem Label produziert und vertrieben werden, und zwar in immer vielfältigeren Repertoires.
"Wir freuen uns, Naxos und seine angeschlossenen und vertriebenen Labels bei NomadPlay willkommen zu heißen. Der Katalog wird so um ein breites Repertoire bereichert, das von international renommierten Künstlern gespielt wird. Ich freue mich, dass eine große Plattenfirma wie Naxos einem französischen Startup wie dem unseren vertraut und dank unserer Innovation das Repertoire der klassischen Musik so vielen Menschen wie möglich zugänglich machen möchte." – Clothilde Chalot (Geschäftsführerin von NomadPlay)
---
Naxos, le leader mondial de l'enregistrement de la musique classique, signe son entrée dans le catalogue digital de NomadPlay
Pour la première fois, jouez à l'unisson avec certains des plus grands artistes du répertoire de Naxos ! Les titres emblématiques de Naxos et ses labels distribués seront désormais accessibles sur la plateforme musicale montante, NomadPlay !
Un développement considérable du catalogue
La bibliothèque de NomadPlay comptait déjà près de 2.000 titres enregistrés en studio ou en live et plus de deux cents artistes et orchestres partenaires dont l'Orchestre National d'Île-de-France, Renaud Capuçon, l'Orchestre de Chambre de Paris ou encore les Talens Lyriques. Grâce à ce nouveau partenariat, l'application peut désormais accueillir une sélection de prestigieux enregistrements de Naxos Records, mais aussi des labels qu'il possède ou distribue tels que Pentatone, SWR, OehmsClassics, ORFEO International, Capriccio…
Sur NomadPlay, les musiciens, amateurs comme professionnels, auront ainsi la chance de jouer aux côtés de leurs artistes préférés du catalogue Naxos, dans des répertoires variés. De la musique instrumentale à la musique de chambre, l'intégration de ce nouveau contenu se fera progressivement, en raison de l'importance du catalogue produit et distribué par le label.
Pour commencer, tout au long du mois de décembre 2020, NomadPlay a mis en ligne les 24 Préludes op.28 de Chopin enregistrés par l'un des plus grands pianistes du XXe siècle, Claudio Arrau. L'ajout de nouveaux titres et artistes se poursuivra cet hiver avec les Sonates pour piano de Beethoven interprétées par Paul Badura-Skoda, les Sonates et Partitas de Bach par la violoniste hollandaise Lucy Van Dael ou encore certains disques de Sviatoslav Richter.
Plus qu'un partenariat, une vision commune
Le nouveau modèle commercial que représente NomadPlay a été le moteur du partenariat avec Naxos. En effet, l'application qui fonctionne comme une plateforme de streaming, applique un système de rémunération dit user centric, (rétribution des artistes et labels à chaque lecture réelle) qui est réputé plus équitable que le modèle data centric (au prorata), suivi par des acteurs tels que Spotify.
Matthias Lutzweiler, PDG de Naxos Allemagne, explique : « Je suis particulièrement heureux de l'intégration de Naxos, et de ses labels affiliés et distribués, dans une application aussi novatrice que NomadPlay. Notre objectif en tant que label classique – à savoir donner accès à la musique à tous les mélomanes – rejoint les valeurs à l'origine de NomadPlay dans une synergie enthousiasmante. »
Pour Naxos, ce partenariat est un moyen de donner accès au contenu de ses artistes mais aussi de créer une nouvelle relation avec le public de la musique classique, tout en permettant aux utilisateurs de NomadPlay de se plonger dans une expérience musicale unique.
Quant à NomadPlay, il s'agit avant tout d'offrir aux musiciens le plaisir de s'immerger dans une expérience musicale aux côtés d'artistes mondialement connus, produits et distribués par le label, dans des répertoires toujours plus variés.
« Nous sommes ravis d'accueillir Naxos et ses labels affiliés et distribués, au sein de NomadPlay. Le catalogue s'enrichit ainsi d'un large répertoire, interprété par des artistes de renommée internationale. Je me réjouis qu'une grande maison de disques comme Naxos fasse confiance à une startup française comme la nôtre, et ait à cœur d'ouvrir le répertoire de musique classique au plus grand nombre grâce à notre innovation. » – Clothilde Chalot, PDG de NomadPlay