In today's news: Liza Ferschtman on tour with Bernstein's 'Serenade' and the meaning of Alexa for the music industry. Also, Christian Thielemann to conduct the traditional New Year's concert by the Vienna Philharmonic in 2019 and the Berlin State Opera attracted more visitors since its reopening.
Classical-Music
Liza Ferschtman on tour with Bernstein's 'Serenade'
The violinist will perform in 5 countries to celebrate Bernstein's centenary this year
Oxford Mail
Introducing – Oxford's Tuneless Choir
Meet the musical ensemble of singers where you don't have to be able to hold a note
Music Week
Alexa and the future of the music business
Voice control and interactive AI has been coming for a while, but 2018 could be the tipping point for the music business.
Yahoo News
Vienna waltzes the world into 2018 with New Year's concert
The Vienna Philharmonic gave the world a soothing start to 2018 with its traditional New Year's concert, led by Italian maestro Riccardo Muti.
The Telegraph
Is Leonard Bernstein still the greatest?
A look at the power and passion of modern music's most controversial maestro.
nmz
Berlin: Staatsoper Unter den Linden seit Wiedereröffnung ausverkauft
Die Berliner Staatsoper hat durch die Wiedereröffnung ihres Stammhauses Unter den Linden einen Besucherschub erlebt. Nahezu alle der insgesamt 63 Veranstaltungen dort waren ausverkauft, teilte das Haus am Freitag mit. Die Jahresauslastung sei von 88 Prozent im vergangenen Jahr auf jetzt 94 Prozent gestiegen.
Klassik.com
Sydney Opera House: Wiedereröffnung nach Renovierung
Das Sydney Opera House wird nach siebenmonatiger Sanierung zu Beginn des Jahres 2018 wiedereröffnet. Erneuert wurde in dem 1973 eingeweihnten architektonischen Wahrzeichen der australischen Stadt das Joan Sutherland Theatre.
pizzicato
Christian Thielemann dirigiert 2019 erstmals Wiener Neujahrskonzert
Der deutsche Dirigent Christian Thielemann, 58, wird 2019 am Pult des Neujahrskonzerts der Wiener Philharmoniker stehen.
Platea Magazine
Christian Thielemann dirigirá el Concierto de Año Nuevo en Viena en 2019
Tras la actuación hoy de Riccardo Muti al frente del tradicional Concierto de Año Nuevo en Viena, será el maestro berlinés Christian Thielemann (1959) quien tome el testigo de esta cita en 2019.
france musique
Un PC, un clavier et un archet pour former un nouvel instrument
Un jeune compositeur géorgien voulait démontrer que l'ordinateur pouvait être un instrument de musique à part entière. À l'aide de trois éléments qui n'ont, a priori, rien à voir ensemble, il est parvenu à créer de la musique électronique.
Twitter
Royal Academy of Music @RoyalAcadMusic: Congratulations to Professor Jonathan Freeman-Attwood, Principal, who has been awarded a CBE in recognition of his services to music in the 2018 New Year Honours. http://www.ram.ac.uk/about-us/news/academy-principal-awarded-cbe-in-new-year-honours …
DeutschlandfunkMusik @DLFMusik: Orchester-Sanierung in Sachsen-Anhalt mit SED-Parteivermögen? Deutsche Orchestervereinigung fordert dazu auf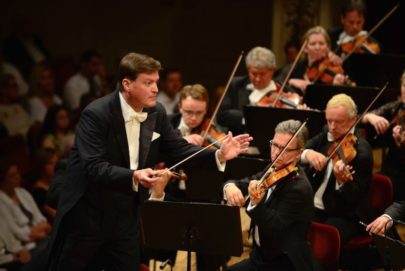 Image: Christian Thielemann © Platea Magazine/Matthias Creutziger