#PlayTogether with NomadPlay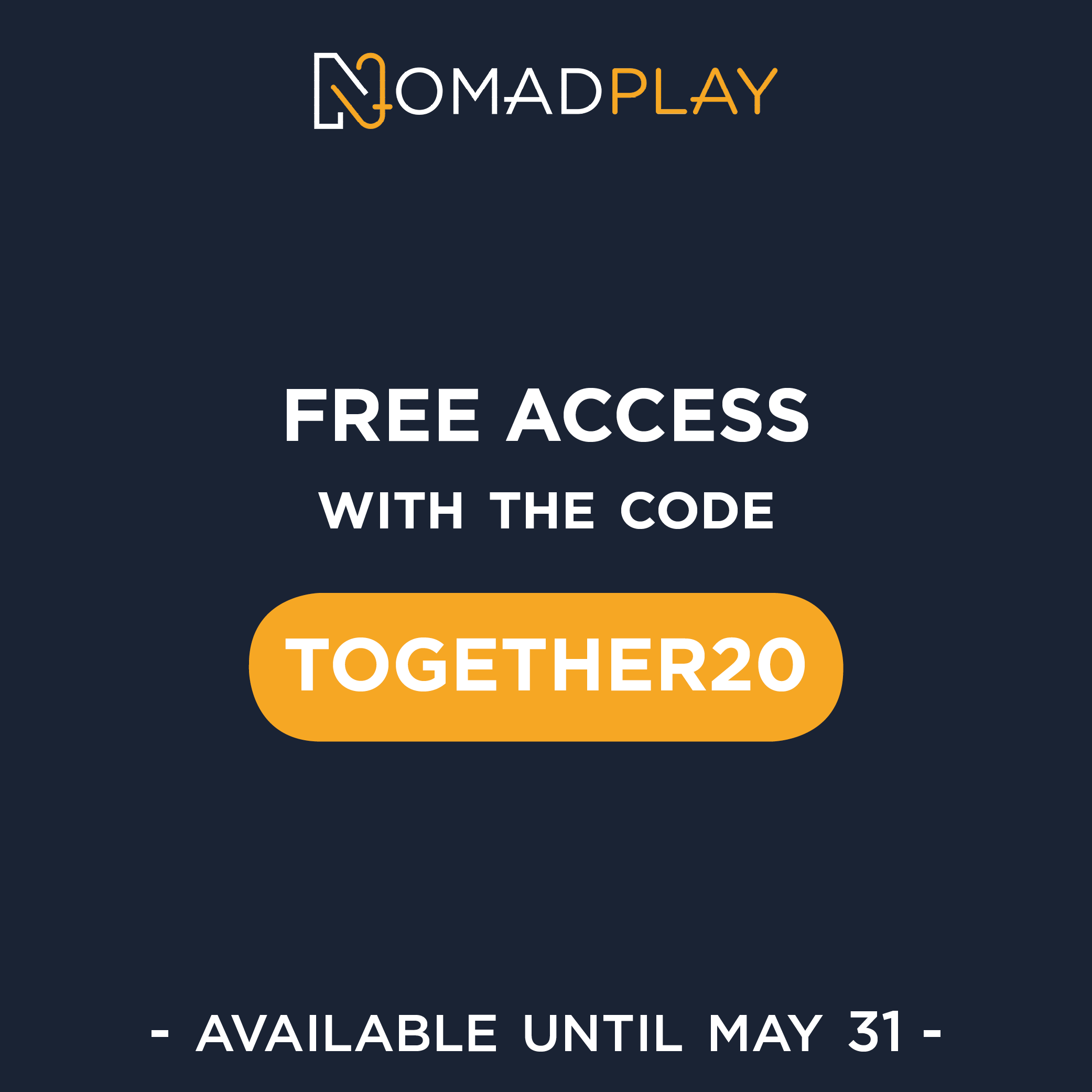 In this uncertain time, the most important thing we can all do is to stay at home, and to take care of ourselves and our loved ones. Despite our distance, the WildKat family remains united. Thanks to frequent Skype and Zoom meetings, we continue to promote our clients and share moments of friendship, which are essential to get us through this difficult period.
So how do we keep our moral up? In a spirit of solidarity with all musicians, NomadPlay is encouraging us to #PlayTogether with its entire catalogue, free of charge until May 31!
To obtain this, simply:
1. Register via the app (iOS or Android) or on nomadplay.fr,
2. Enter the code TOGETHER20 in "I have a code" (profile menu),
3. Choose a work and take a seat amongst your fellow musicians…
Designed for all, singers and instrumentalists, professional and amateur musicians, the application allows you to mute the sound of your chosen instrument and perform in your living room, immersed amongst virtuosos (Les Talens Lyriques, l'ONDIF, Renaud Capuçon, Romain Leleu, Sarah Nemtanu, Justin Taylor, Vanessa Wagner…).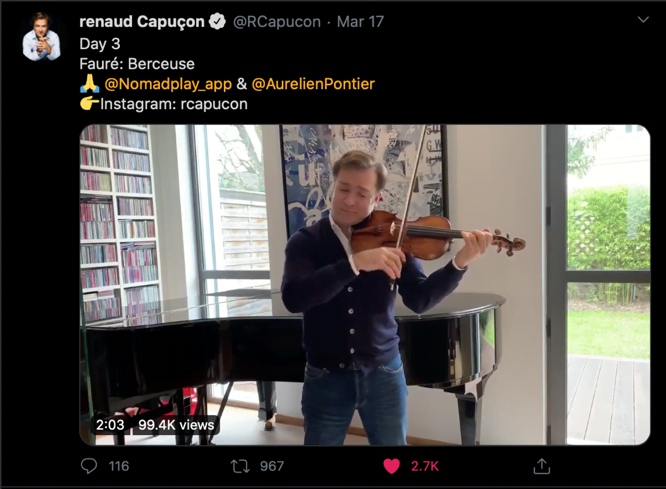 Once you've tried it, you'll never look back! Follow the example of Renaud Capuçon, who uses the application daily to delight us all on social media, and post your music videos, tagging WildKat and NomadPlay.
Despite our distance, #playtogether!
NomadPlay on Apple Store & Google Play
Twitter – @Nomadplay_app & @WildKatFrance
Facebook – NomadPlay & WildKat
Instagram – nomadplay_app & wildkatpr
Website – https://www.nomadplay.fr
---
NomadPlay est gratuite jusqu'au 31 mai !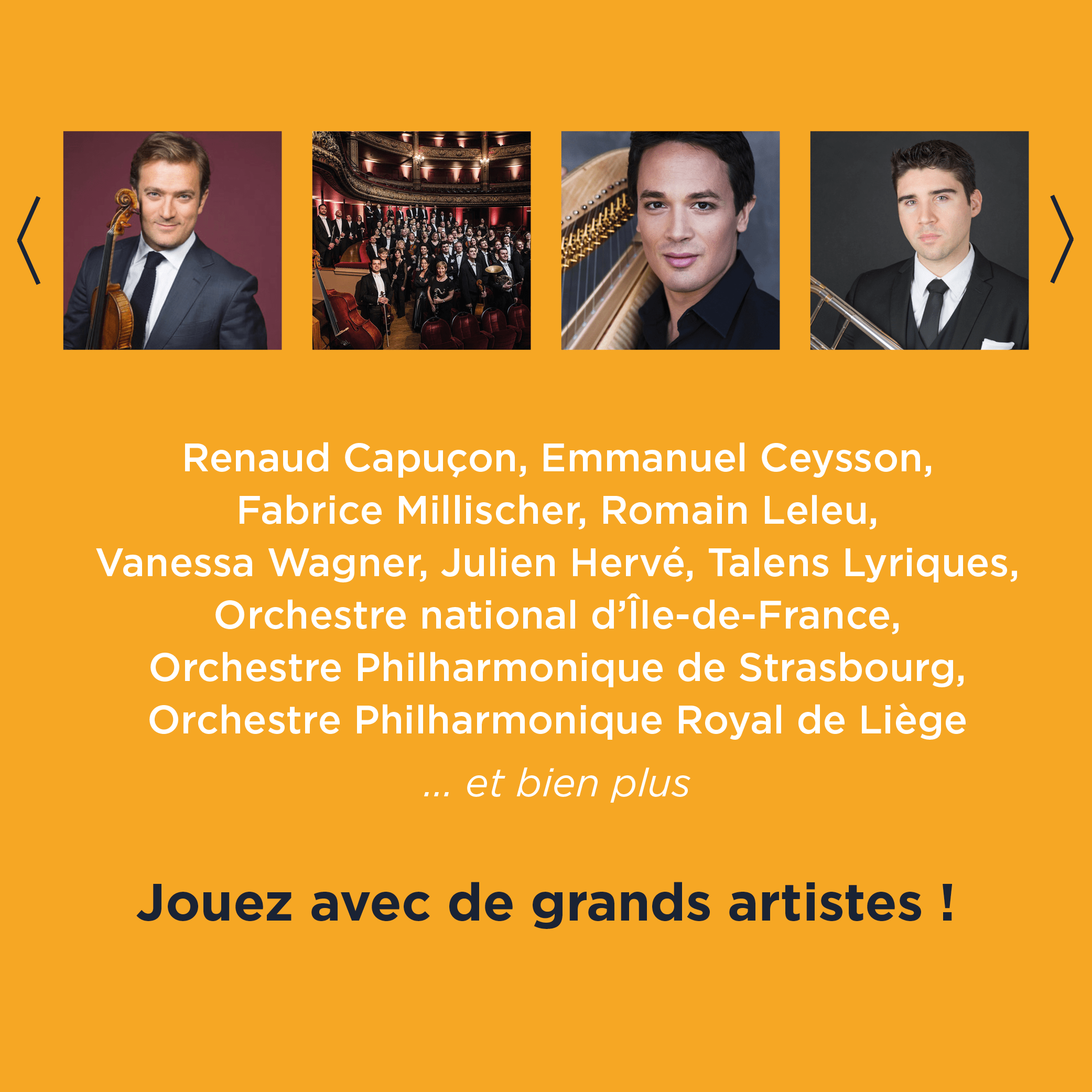 En cette période de confinement, le plus important, c'est de rester à la maison, de prendre soin de nous et de nos proches. Malgré la distance qui nous sépare, l'équipe de WildKat reste soudée. Grâce à des réunions Skype et Zoom fréquentes, nous continuons de promouvoir les projets musicaux de nos clients et nous partageons des moments de convivialité, essentiels pour traverser cette période difficile.
Alors comment garder le moral au beau fixe ? Dans un élan de solidarité avec tous les musiciens, l'extraordinaire application musicale NomadPlay, avec qui nous sommes ravis de prolonger notre collaboration, propose exceptionnellement de bénéficier de l'intégralité de son catalogue gratuitement jusqu'au 31 mai !
Pour cela rien de plus simple :
1. Inscrivez-vous via l'application (iOS ou Android) ou sur nomadplay.fr,
2. Entrez le code TOGETHER20 dans « J'ai un code » (menu profil),
3. Choisissez une œuvre et prenez place parmi les musiciens…
Conçue pour tous, chanteurs, instrumentistes, musiciens professionnels et amateurs, l'application vous permet de supprimer le son de l'instrument choisi et de jouer en immersion, depuis votre salon, avec des virtuoses (Les Talens Lyriques, l'ONDIF, Renaud Capuçon, Romain Leleu, Sarah Nemtanu, Justin Taylor, Vanessa Wagner…)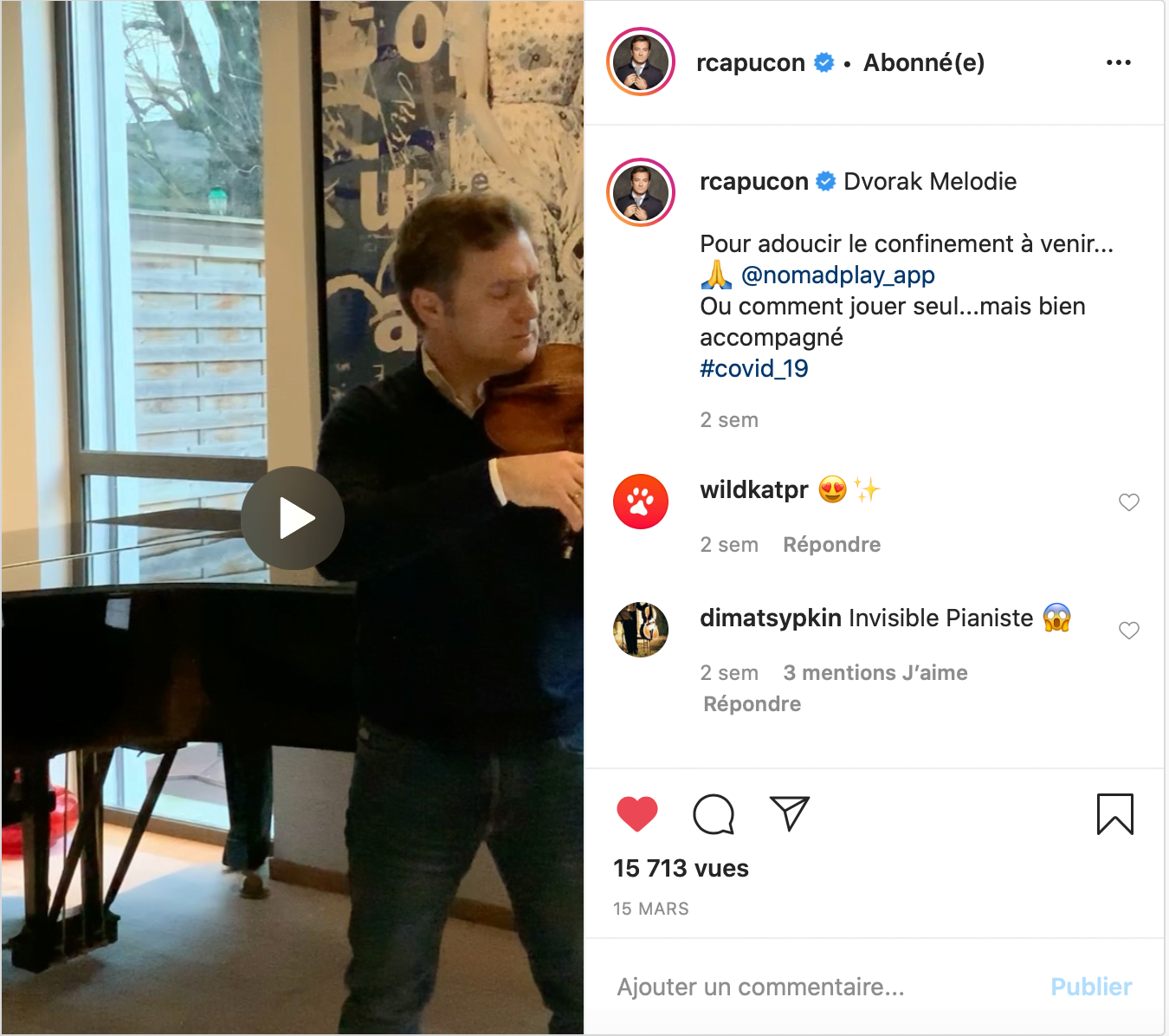 L'essayer c'est l'adopter ! A l'instar de Renaud Capuçon, qui utilise l'application quotidiennement pour nous régaler sur les réseaux sociaux, postez vos vidéos musicales et tagguez WildKat et NomadPlay.
Malgré la distance, #playtogether !
NomadPlay sur Apple Store & Google Play
Twitter – @Nomadplay_app & @WildKatFrance
Facebook – NomadPlay & WildKat
Instagram – nomadplay_app & wildkatpr
Site internet – https://www.nomadplay.fr