Canadian competition offers top prize worth over CA$100k. This includes a cash prize, a career development grant, an instrument and professional engagements
The Concours musical international de Montréal has selected 24 candidates for its live rounds which run from 29 May to 5 June in the city's Bourgie Hall and Maison symphonique.
The violinists are:
Zachary Brandon (US)
Elina Buksha (Latvia)
Stella Chen (US)
Elli Choi (US)
Maria Dueñas (Spain)
Leonard Fu (Germany)
Stephen Kim (US)
Gyehee Kim (South Korea)
William Lee (US)
Youjin Lee (South Korea)
Anna Lee (US/South Korea)
Lun Li (China)
Hyun Jae Lim (South Korea)
Michiru Matsuyama (Japan)
Fumika Mohri (Japan/Germany)
Daichi Nakamura (Japan/Austria)
Yukari Ohno (Japan)
Fedor Rudin (France/Russia)
Olga Šroubková (Czech Republic)
Hannah Tarley (US)
Coco Tomita (Japan)
Jinyoung Yoon (South Korea)
Vasyl Zatsikha (Ukraine)
Hao Zhou (US)
The first prize laureate wins CA$30,000 cash, $50,000 career development grant, a new instrument, plus a residency at the Banff Centre. Second and third prize win CA$15,000 and $10,000 respectively, and there are a number of special awards.
The international jury comprised of: Pierre Amoyal, Michael Haefliger, Kim Kashkashian, Boris Kuschnir, Cho-Liang Lin, Mihaela Martin, Barry Shiffman, Dmitry Sitkovetsky, and Pavel Vernikov. Zarin Mehta, former director of the Montreal Symphony Orchestra and New York Philharmonic, is the jury president.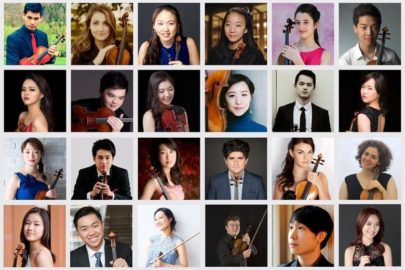 ---
Der Deutsche Musikautorenpreis ist fester Bestandteil der deutschen Musiklandschaft und in seiner Ausrichtung auf Musikautoren einzigartig: Am Ende der Preisverleihung stehen Klassikvirtuosen neben Hip-Hop-Größen, Songwriter für Kinderlieder neben Rockmusikern und Experten elektronischer Musik neben Komponisten von Chorwerken auf der Bühne. Allen gemein ist, dass sie Herausragendes in ihrem Genre leisten. Auch die Liste der diesjährigen Nominierten spiegelt diese musikalische Vielfalt wieder. Nominiert sind unter anderem Rupert Huber, Arvo Pärt und Daniel Smutny in der Kategorie "Komposition CHormusik" und Tim Allhoff, Julia Hülsmann und Martin Tingvall in der Kategorie "Komposition Jazz/Crossover".
Seit elf Jahren würdigt die GEMA unter dem Motto "Autoren ehren Autoren" Komponisten und Textdichter für ihr musikalisches Schaffen mit dem Deutschen Musikautorenpreis. Eine siebenköpfige Fachjury bestimmt die Nominierten und Preisträger.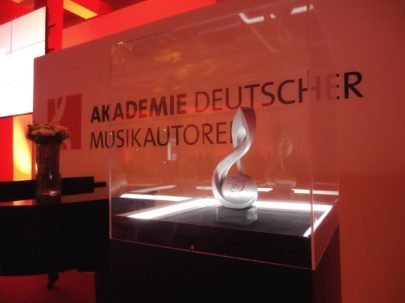 German Music Authors Award: The 2019 nominees have been announced
The German Music Author Award is an integral part of the German music scene and unique in its focus on music authors. At the end of the awards ceremony, classical virtuosos will perform alongside hip-hop artists, songwriters for children's songs alongside rock musicians and experts in electronic music alongside composers of choral pieces.
What they all have in common is that they excel in their genre. The list of this year's nominees also reflects its musical diversity. Nominees include among others Rupert Huber, Arvo Pärt and Daniel Smutny in the category "Composition of Choral Music" and Tim Allhoff, Julia Hülsmann and Martin Tingvall in the category "Composition Jazz / Crossover".
For eleven years, GEMA has been honoring composers and lyricists for their musical work with the German Music Author Award under the motto "authors honor authors". A jury of seven judges determines the nominees and winners.
---
Der britische Komponist John Rutter erhält den Preis der Europäischen Kirchenmusik 2019. Die Stadt Schwäbisch Gmünd ehrt ihn mit dieser Auszeichnung für seine Verdienste um die Geistliche Musik: John Rutter zählt gegenwärtig zu den bedeutendsten und populärsten Vertretern des Genres. Unverkennbar ist sein Personalstil – ein großer melodischer Erfindungsreichtum, vielschichtige Harmonien und Rhythmen geben Rutters Kirchenmusik eine suggestive Kraft, die Profi- wie Laien-Ensembles gleichermaßen berührt. Oberbürgermeister Richard Arnold wird die Auszeichnung im Rahmen des Festivals Europäische Kirchenmusik Schwäbisch Gmünd Mitte Juli an John Rutter verleihen. Das Festkonzert gestaltet der "Chamber Choir of Europe" unter Leitung von Nicol Matt.
Der Preis der Europäischen Kirchenmusik ist mit 5.000 Euro dotiert. Seit 1999 zeichnet er hochrangige Interpreten und Komponisten für wegweisende Leistungen im Bereich der Geistlichen Musik aus. In diesem Jahr wird der Preis der Europäischen Kirchenmusik Schwäbisch Gmünd zum 21. Mal verliehen.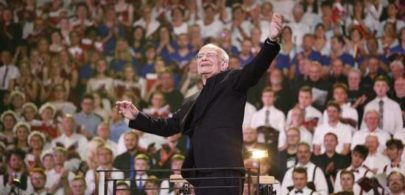 European church music award for John Rutter
The British composer John Rutter receives the European church music prize in 2019. With this award, the city of Schwäbisch Gmünd honors him for his contributions to the field of clerical music: John Rutter is currently one of the most important and popular representatives of the genre. His personal style is unmistakable – a great melodic ingenuity, complex harmonies and rhythms give Rutters church music a suggestive power that touches both professional and amateur ensembles alike. Mayor Richard Arnold will bestow the award to John Rutter in mid-July as part of the European Church Music Festival Schwäbisch Gmünd. The festival concert is organized by the "Chamber Choir of Europe" under the direction of Nicol Matt.
The price of European church music is endowed with 5,000 euros. Since 1999, it has been honoring high-level performers and composers for pioneering achievements in the field of sacred music. This year, the Prize of the European Church Music Schwäbisch Gmünd is awarded for the 21st time