We are happy to announce, that the winner of the 2017/18 Noted Fellowship is Ben Corrigan with his extraordinary podcast "excuse the mess"!
"We chose Ben Corrigan as this year's winner because his podcast has an innovative and cogent approach to the realities and difficulties of the classical music market today. It is entertaining, intellectually demanding and whets the appetite for classical and contemporary music. I am very pleased to work alongside his project in the coming year."
(Carolin Denz – Director, Noted Fellowship)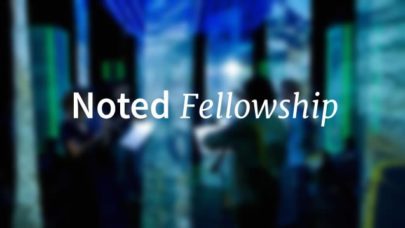 Ben Corrigan's podcast is unique in the classical music market. Not only does he invite composers to talk about their new works and discuss their opinions on the classical music industry, but he joins them in composing a completely new piece of music "off the cuff" at the end of each episode.
Corrigan does everything himself – from the conceptual design of the individual podcasts to the recording and technical implementation. His goal is to complete the first podcast series excuse the mess by the end of 2018 and to publish an album with the newly created compositions.
The podcast is currently in development and within the next year, with the support, help and input of selected mentors from Noted Fellowship, Corrigan will further develop his podcast and music album in terms of content and structure. Furthermore, he will receive a financial support from Noted of 5,000€.
Get more information here, or better yet – listen directly to his podcast here!