To close Beethoven's 250th birthday celebrations, live entertainment streaming platform, On Air, will present Gustav Mahler's Re-Orchestration of Beethoven's beloved 9th Symphony.
The performance will be streamed from the Synchron Stage in Vienna – the very epicentre of classical music and where Beethoven's masterpiece received its debut in 1824.
Austrian conductor, Johannes Vogel will lead the Synchron Stage Orchestra and soloists from the Vienna State Opera for this epic Beethoven concert, running on 18, 19 and 20 December at 8pm.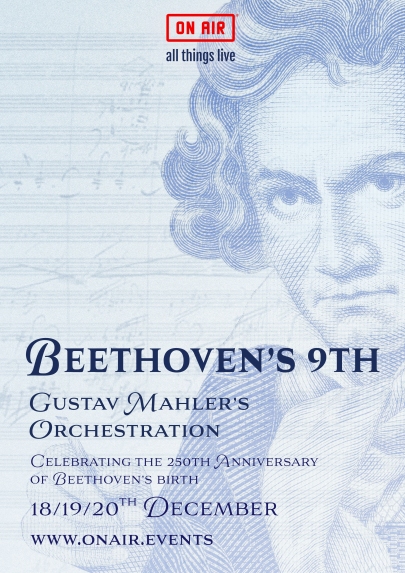 A 123-strong orchestra and choir will be assembling for the event in a safe, Covid-secure way and the event, captured in Vienna's state-of-the-art recording facility, is a winning mix of high-end production, set design and lighting, promising an immersive experience straight to your living room.
Audiences will be able to purchase tickets for the event on On Air's website, where the broadcasts will be streamed.
Having previously hosted contemporary artists, the performance will be the very first classical music show that On Air has presented. As with previous events, On Air is the exclusive producer of the show.
WildKat looks forward to working on a global PR campaign for On Air around the event.