Classical News
Guardian
Facing the music: Leila Josefowicz
From Justin Timberlake and Stockhausen to Björk and Sondheim – the violinist shares her musical passions
Telegraph
15 best festivals for the over-50s
The festival season isn't just for the young who seem to be more into mud than music. From Cornbury to Wychwood, there are arts events this summer for everyone
Financial Times
Interview: Annilese Miskimmon, Danish National Opera director
One of few women to manage a major opera company, the 40-year-old director talks about technology and audience participation
Classic FM
Battersea Arts Centre hit by fire
Battersea Arts Centre, home of many contemporary theatre and opera productions, has caught fire.
Classical Source
Investec Opera Holland Park 2015 Season
Opera Holland Park is one of the most popular and highly-acclaimed events in London's musical calendar and their 19th season includes a mixture of five new productions and revivals in 36 main-stage public performances.
Sinfini
Emily Wright arranged, performed and edited this highly unusual arrangement of Beethoven's famous symphony for a university project.
Süddeutsche.de
Fromme Eiferer und Kirchenleute in Russland verhindern im Namen der Religion Konzerte und Ausstellungen. Putin arbeitet derweil an einer Allianz zwischen Staat und orthodoxer Kirche.
concerti
Sanfte Töne an der rauen irischen Südwest-Küste: Beim West Cork Chamber Music Festival geben die Schafe den Ton an
pizzicato
Tickets für Salzburger Festspiele werden noch teurer
In der Tageszeitung 'Österreich' kritisiert die Präsidentin der Salzburger Festspiele, Helga Rabl-Stadler, die Folgen der Mehrwertsteuer-Erhöhung für Tickets von 10 auf 13 Prozent.
Trompeter Marsalis sagt aus politischen Gründen Konzerte in Venezuela ab
Der Jazz-Trompeter Wynton Marsalis ist wegen politischer Differenzen den für dieses Wochenende geplanten Konzerten mit dem 'Simon Bolivar Orchestra' unter Gustavo Dudamel ferngeblieben.
Broadwayworld.com
Seoul Philharmonic Orchestra Cancels U.S. Tour, Including Walt Disney Concert
The Seoul Philharmonic Orchestra (SPO) is cancelling its U.S. tour, which included a concert at Walt Disney Concert Hall,Wednesday, April 15. The cancellation is due to a recent and significant cut in tour funding from the City of Seoul.
artsjournal
The Pittsburgh Symphony Asks Potential Audiences What They Think Of Classical Music, And Finds Painful Answers
Participants described classical music performances as boring, relaxing, soothing and long.
Twitter
Classic FM @ClassicFM: .@EricWhitacre covered @MileyCyrus's 'Wrecking Ball' and the result is heart-melting (& quite crunchy). Listen here: http://classfm.co/YcMF5K 
Time Out London @TimeOutLondon: Quit your job, become an… armourer http://wp.me/p1tkOY-OMq 
Southbank Centre @southbankcentre: .@southbankcentre is delighted to have secured 3rd position in @alva_uk's visitor attractions for 2014 when we saw 6,255,799 visits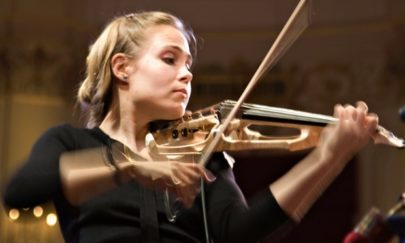 'I often pretend that my violin is a drum kit' – Leila Josefowicz Photograph: Deborah O'Grady/PR