Opera North today announces main stage repertoire for its 2019/20 season, to include revivals of popular favourites alongside adventurous new productions.
A new production of Bohuslav Martinů's rarely performed The Greek Passion will open the year in September 2019, directed by Christopher Alden, designed by Charles Edwards and conducted by Garry Walker, with an ensemble cast including Nicky Spence as Manolios and Magdalena Molendowska as Katerina.
Other highlights will include:
A number of new initiatives for 2019/20 will be introduced, including Try it ON, a scheme offering first-time attendees £20 tickets for all performances, and a dementia-friendly performance of La Bohème.
---
The Wagner Society has announced that Longborough Festival Opera co-founders Martin and Lizzie Graham (pictured below) will receive its prestigious Reginald Goodall Award, recognising individuals who have been of outstanding service to Wagner and his music.
The award comes as Longborough announces its new Ring cycle, following their critically acclaimed 2013 cycle which established the festival as a destination for Wagnerians around the world. Lizzie Graham comments: 'Martin and I are delighted to receive this award on behalf of the whole team at Longborough who work so hard to make Wagner successful here, and are currently helping to put our new Ring cycle in place.' They will receive the award at a ceremony at the Royal Over-Seas League in London on 20 March 2019.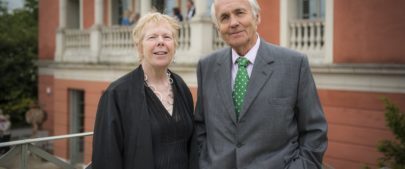 The upcoming cycle will see Longborough stage new productions of Das Rheingold (June 2019); Die Walküre (June 2020); Siegfried (June 2021) and Götterdämmerung (June 2022); culminating in the full cycle of Der Ring des Nibelungen (June 2023). The entire cycle will be conducted by Longborough music director Anthony Negus, and brought to life by Royal Opera House head staff director Amy Lane.
---
Seit gestern (25.2.) können sich junge Dirigentinnen und Dirigenten um die Teilnahme am Deutschen Dirigentenpreis (DDP) vom 11. bis 18. Oktober 2019 in Köln bewerben. Der internationale Wettbewerb für Konzert- und Operndirigat gilt als eine der höchstdotierten Auszeichnungen für junge Dirigentinnen/en in Europa.
Das Dirigentenforum des Deutschen Musikrats richtet den Wettbewerb in Partnerschaft mit der Kölner Philharmonie, der Oper Köln, dem Gürzenich-Orchester Köln und dem WDRSinfonieorchester aus. Bewerben können sich Dirigentinnen/en aller Nationen, die 32 Jahre und jünger sind (Stichtag: 31. Oktober 2019). Die Bewerbung erfolgt ausschließlich online über die Website des Dirigentenforums: www.dirigentenforum.de/ddp – Bewerbungsschluss ist der 31. März 2019.
---
As of 25th February, young conductors can apply for the German Conducting Award (DDP). This year's event will be held from 11 to 18 October 2019 in Cologne. The international competition for concert and opera conducting is considered one of the most highly endowed awards for young conductors in Europe.
The Conductors' Forum of the German Music Council organizes the competition in partnership with the Kölner Philharmonie, the Oper Köln, the Gürzenich-Orchester Köln and the WDR Sinfonieorchester. Applicants of all nations aged 32 years and younger are eligible. Applications can only be submitted online via the website of the Conductor Forum: www.dirigentenforum.de/ddp – application deadline is March 31, 2019.