Guardian
OperaUpClose to leave King's Head, Islington, for fresh challenges
Innovative company that stretched boundaries of small-scale opera will build on links with Soho theatre and Coventry Belgrade
Telegraph
Christopher Hogwood: the star of Early Music
Christopher Hogwood, who has died aged 73, searched for certainty in the uncertain world of very old classical music, says Ivan Hewett
Classic FM
Classic FM hung out with composers and developers at Game Music Connect 2014
Returning to London for a second year, Game Music Connect brought together the world's finest video game music composers, game industry big-hitters and a legion of dedicated aficionados – and Classic FM was there to talk to all of them.
Pizzicato
American Composers 'In Loud Support' of the Atlanta Symphony
American composers John Adams, John Corigliano, Nick Demos, Steve Everett, Michael Gandolfi, Osvaldo Golijov, Mark Grey, Jennifer Higdon, John Anthony Lennon, Jonathan Leshnoff, Richard Prior, Adam Schoenberg, Alvin Singleton and Christopher Theofanidis have written an open letter in loud support of the Atlanta Symphony Orchestra and its unique and important place in American concert music.
Gramophone
Linn extends the appeal of its Exakt system with Akudorik stand mount speakers
New speaker set-up is the most affordable yet, and company now working on technology for other manufacturers' speakers

BBC News
Southbank Centre repairs get £4.9m Lottery boost
Planned maintenance of the Southbank Centre in London has had a £4.9m boost from the Heritage Lottery Fund.
Die Welt
Der britische Dirigent Christopher Hogwood ist mit 73 Jahren gestorben. Er war auch Cembalist, Musikwissenschaftler und Schriftsteller. Von ihm stammt eine äußerst lesbare Händel-Biografie.
Die Zeit
Soldaten, Gewehre, Bomben – und jetzt die Münchner Oper: eine Begegnung mit der irischen Mezzosopranistin Tara Erraught.
Der Tagesspiegel
James Levine eröffnet die Saison an der Met
Rückkehr im Rollstuhl
El Mundo
Las zarzuelas de la Independencia
La Biblioteca Nacional acoge entre el 30 de septiembre y el 25 de enero del 2015 una exposición sobre las zarzuelas que surgieron al calor de la Guerra de la Independencia
Boston Globe
Upbeat Andris Nelsons leaps into BSO world
BSO music director Andris Nelsons said he's looking forward to "performing great music."
Twitter
Sinfini Music ‏@SinfiniMusic: Two documentary portraits of one musical great http://bit.ly/1qya4tD  @thenfb 1959 films on pianist Glenn Gould worth setting time aside for
Opera North @Opera_North: So delighted that our Music Director Richard Farnes has been nominated for 'Achievement in Opera' @UKTheatreAwards http://www.operanorth.co.uk/news/585 
Classic FM @ClassicFM: Watch 5 marvelous performances of John Cage's 4'33": http://classfm.co/okGlJe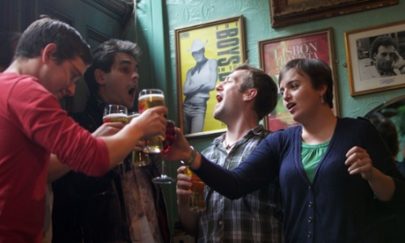 OperaUpClose's La Bohème at the King's Head theatre, Islington. Photograph: Anna Gordon/the Guardian