It was reported today by Pizzicato that French conductor Frédéric Chaslin refused to conduct the Israeli Opera on Saturday after his request to have a moment of commemoration for the victims of the terrorist attacks in France was denied. He wanted to address the audience and play the national anthem of Israel but was told that this would 'upset the audience.'
It saddened me to hear this, this morning; one of the reasons I love classical music is its relevance to situations like this. Throughout the ages, music has been used to celebrate, commemorate and mourn national and global events: Handel's Zadok the Priest is played at every British coronation. Beethoven's Ode to Joy will forever be synonymous with the concert celebrating the fall of the Berlin Wall in 1989. The second movement of Gorecki's Symphony of Sorrowful Songs uses words found on a wall of a Gestapo cell to remember the horrors of the Holocaust. The image of a man playing the piano in front of Ukrainian riot police.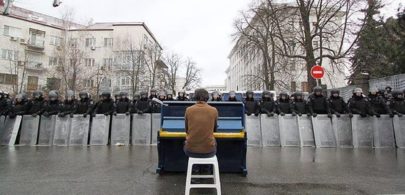 Photo found at Classic FM
I think Chaslin's reaction was appropriate and his request should have been granted. Yes, it may have been upsetting for the audience, but as the world sat shocked at the events in Paris and Dammartin-en-Goele, music should have been a part of the healing and defiance.