This weekend, Raymond Yiu's first stage work The Original Chinese Conjuror will be performed in Vienna. The 'musical diversion' is an amalgamation of music-hall and jazz with oriental influences, demonstrating Yiu's versatile and intricate compositional techniques.
The Original Chinese Conjuror describes the deceptive career of William Robinson, an American magician who decided to advance his career by undertaking a new persona: Ching Ling Soo. The fraudulent Chinese character performed tricks and illusions across America, remaining mute in his performances, and using a Chinese 'interpreter' for the press. However, the daredevil trickery used in his theatrical shows eventually led to his accidental death, revealing the truth behind both his fraudulent persona and dangerous tricks.
The second production of The Original Chinese Conjuror will take place at Vienna's Musikverein on 19th April. More information, along with tickets, can be found here.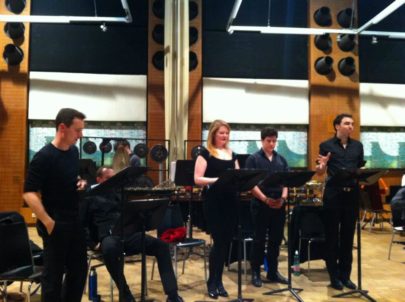 Rehearsal Photo of The Original Chinese Conjuror. 
Photo credit: