Following the success of their previous concert, here at WildKat PR we have been looking forward to our client Orpheus Sinfonia's next Beneath The Score concert: 'The Shakespeare Influence'. The evening's music will be inspired by the works of Shakespeare and include works from composers such as Mendelssohn, Prokofiev and Tchaikovsky. The performance will also be interspersed with readings by two young talented actors from some of Shakespeare's most loved plays: 'A Midsummer Night's Dream,' 'Much Ado about Nothing,' and 'Romeo and Juliet.'
The Beneath The Score series aims to bring classical music to new audiences and expand the knowledge of the experienced, by exploring the meaning behind the work during the concert. The first concert, which explored Beethoven's life and revolutionary influence, included readings of extracts of his diaries and images to bring the music more to life. Indeed, many audience members, newcomers and seasoned concertgoers alike, commented on how much they learnt as well as how much they enjoyed the music. One person remarked how she did not realise how early Beethoven's deafness set in whilst another was very new to the experience and so learnt much more than he knew before.
The concert will be performed by the talented Orpheus Sinfonia, an orchestra composed of recently graduated musicians emerging from study into the profession, and conducted by conductor, cellist and presenter Thomas Carroll. The Shakespeare Influence will take place this Thursday (22nd January 2015) at 19:30pm at St George's Church in Hanover Square. Tickets can be found here. It promises to be a fascinating and uplifting evening.
Find Orpheus Sinfonia on Facebook, Twitter and YouTube.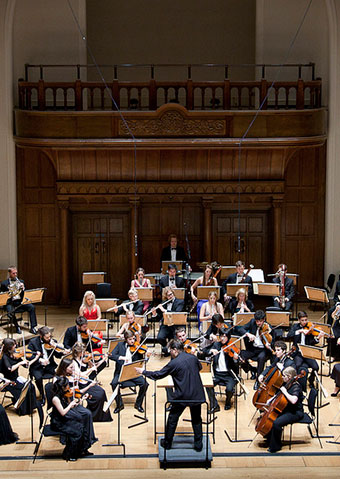 The Orpheus Sinfonia in Concert. Photo found at orpheusfoundation.com