In today's news: Lutosławski Cello Competition enters its final stage, Madison Square Garden announces a new venue in London, more younger people prefer classical music. Also, composer Johann Johannsson dies at 48 and Sylvain Cambreling is the new chief conductor of Hamburg Symphony Orchestra.
Classical Music
LSO announces Panufnik Composers intake for 2018
The London Symphony Orchestra has announced the six individuals selected for its Panufnik Composers Scheme 2018.
The Strad
Lutosławski Cello Competition heads into finals
The Witold Lutosławski International Cello Competition has entered its final stage with four musicians under the age of 24: Chen Yibai (China), Herbert Oliver (USA), Sato Haruma (Japan) and Ueno Michiaki (Japan).
M Magazine
Under-25s are switching on to classical music, new figures show
The figures, which cover mid-September to mid-December 2017, show that listeners tuned into the station for 40 million hours every week.
Music Business Worldwide
Madison Square Garden company to take on O2 arena in London with new venue
The Madison Square Garden Company has confirmed that it is building a 'large-scale, state-of-the-art, music and entertainment venue' in the East End of London.
Forbes
Can The Apple HomePod Ignite A New Hi-Fi Era?
The initial reports are in and virtually everyone agrees that the Apple's new HomePod smart speaker is one fine-sounding unit that handily beats the competition in the sound quality category.
Spiegel Online
Johann Johannsson tot in Berliner Wohnung gefunden
Er war einer der vielversprechendsten Filmmusikmacher Hollywoods: Der Komponist Johann Johannsson ist mit 48 Jahren gestorben.
Klassik Heute
Die Symphoniker Hamburg – Laeiszhalle Orchester geben bekannt, dass Sylvain Cambreling zur Spielzeit 2018/19 Chefdirigent des Orchesters werden wird. Er folgt auf Sir Jeffrey Tate, der am 2. Juni 2017 verstarb.
Klassik.com
Der Mozartwettbewerb, der in diesem Jahr zum 13. Mal an der Universität Mozarteum Salzburg ausgetragen wird, hat in der Sparte Streichquartett die Gewinner gekürt. Den mit 20.000 Euro dotierten ersten Preis erhielt das französische Quatuor Tchalik.
El País
Ferran Cruixent da vida orquestal a los teléfonos en 'Deus ex machina'
france musique
La finale de la 4e édition du concours de chant lyrique Voix Nouvelles s'est tenue le samedi 10 février à l'Opéra-Comique à Paris. C'est la soprano Hélène Carpentier, originaire d'Amiens, qui a été désignée grande lauréate de la compétition.
Twitter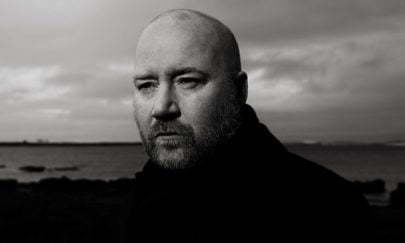 Image: Jóhann Jóhannsson © Jónatan Grétarsson/DG