In today's news: Guildhall School announces autumn 2017 season, Operalia 2017 winners announced, and Los Angeles Philharmonic Announce New Assistant Conductor. Song Aa wins Vareler composer's prize, George Li publishes debute album at Warner Classics, and application opens for "European School Music Prize".
Classical Music Magazine
Ex Cathedra announces 2017/18 season
Ex Cathedra's 2017/18 season will feature repertoire ranging from Monteverdi's 1610 Vespers with His Majestys Sagbutts & Cornetts to new works by Roxanna Panufnik and Alec Roth.
Music Teacher
Guildhall School announces autumn 2017 season
The Guildhall School of Music & Drama's autumn 2017 season includes the launch of the Guildhall Studio Orchestra, performances of Menotti's The Consul, and a concert curated by alumnus Thomas Adès.
Opera Now
Operalia 2017 winners announced
Romanian soprano Adela Zaharia and South African tenor Levy Sekgapane have been named as winners of the 2017 Operalia Competition. Both singers receive $30,000 (£22,700).
The Violin Channel
Los Angeles Philharmonic Announce New Assistant Conductor
The Los Angeles Philharmonic has this week announced the appointment of former Dudamel Conducting Fellow, Chilean conductor Paolo Bortolameolli as their new Assistant Conductor – for the 2017/18 season.
The Strad
Inaugural Paganini Festival in Genoa announces programme
Festival tied to long-running Paganini Prize will feature performances on 'The Cannon' Guarneri.
Limelight
New Zealand orchestra rehearses in funeral home
The Marlborough Civic Orchestra in New Zealand's South Island has found a uniquely quiet space in which to practise.
Pizzicato
Cleveland Institute of Music is leveraging diversity
The Cleveland Institute of Music (CIM) is now accepting applications for the inaugural class of its new Minority Artist Fellowship (MAF) program for African-American and Latino Students.
Klassik.com
Vareler Kompositionspreis für Song Aa
Die koreanische Komponistin Song Aa belegte im Rahmen des diesjährigen Wettbewerbs "Vareler Kompositionspreis" den ersten Platz.
Klassik Heute
Pianist George Li veröffentlicht Debüt-CD bei Warner Classics
George Li, Silbermedaillist des internationalen Tschaikowsky-Wettbewerbs 2015, ist exklusiv bei Warner Classics und legt diesen Herbst sein Debütalbum vor.
Codex Flores
Ausschreibung des Europäischen Schulmusik Preises
Für den mit 21'000 Euro höchstdotierten Preis für instrumentalen Schulmusikunterricht, den Europäische Schulmusik Preis (ESP) ist die Bewerbung offen.
Twitter
Unverwechselbar, ob bei Oper oder Kunstlied – Gundula Janowitz zum 80. Geburtstag.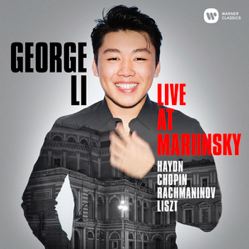 © Warner Classics
Merken
Merken
Merken
Merken
Merken
Merken
Merken
Merken
Merken