Paolo Petrocelli moves on as Director General of Stauffer Academy to become Head of Dubai Opera House
On 13 February, the Stauffer Academy in Cremona, Italy cordially announced the departure of Paolo Petrocelli, who has stepped down from his role as Director-General to begin a new chapter in his career as Head of Dubai Opera House in the United Arab Emirates.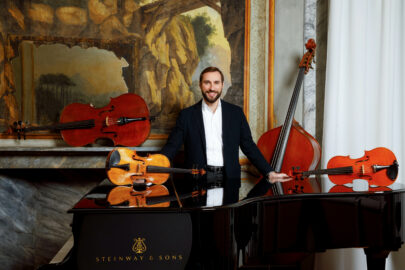 Petrocelli is one of the most dynamic young leaders in arts and culture, leading Italy's most prestigious higher education music institutions in partnerships with Yale University, The Juilliard School and the Royal College of Music, and co-founding Stauffer Centre for Strings.
In 2022, Petrocelli was also chosen as a 'European Young Leader' by prestigious think tank Friends of Europe, as the only arts leader amongst its annual cohort of 40 awardees. Petrocelli is also Founder and President of EMMA for Peace (Euro-Mediterranean Music Academy), one of the largest international organisations for the promotion of music diplomacy between Europe and the Middle East.
As the director of the leading Italian institution for higher music education since 2020, Petrocelli has contributed decisively to there definition of the cultural plan of the Stauffer Foundation, overseeing the opening of the new Stauffer headquarters and working on the creation of the development project of the Stauffer Center for Strings, the first international music center entirely dedicated to stringed instruments.

Under his leadership, the Stauffer Academy expanded its faculty to over 40 leading international artists, including Lisa Batiashvili, Sol Gabetta, Steven Isserlis, Misha Maisky and Viktoria Mullova, as well as partnered with some of the most respected music institutions around the world, including Juilliard School,Yale School of Music and Royal College of Music.

In his two years of positive leadership at the Stauffer, Petrocelli has fully met the expectations of the Foundation's Board of Directors. "The collaboration with Dr. Petrocelli has been extremely productive and meaningful for our institution" comments the President of the Stauffer Foundation Alessandro Tantardini. "Having the opportunity to interact with a dynamic and interesting professional figure is always gratifying, especially while achieving ambitious goals along a path of growth and improvement. When the only guiding principle is the search for excellence and meritocracy, the results can be seen immediately after. The collaboration with Petrocelli is a delightful example of it. Good luck to Paolo, a man of exceptional qualities, appreciated and respected all over the world."

We wish Paolo Petrocelli the best on this exciting new chapter of his career.