WFIMC and IDAGIO announce new partnership
The World Federation of International Music Competitions (WFIMC) has signed a principal partnership with classical music streaming service IDAGIO.
The partnership was agreed upon by IDAGIO founder and CEO Till Janczukowicz, and WFIMC secretary general Benjamin Woodroffe at IDAGIO's Berlin HQ after commencing discussions in 2017.
'This partnership will allow the WFIMC to share the music and personalities of the laureates of our Member Competitions,' explains Woodroffe. 'IDAGIO's commitment to classical music and excellence matches our own perfectly and there is a vast audience of young musicians that will enjoy using the IDAGIO platform to hear one another. The timing and shared values are right for us to jointly provide content and to reach IDAGIO's growing audience.'
For further information, read more here…
---
A symphony has been written to help cure cancer – and it comes with a very powerful ending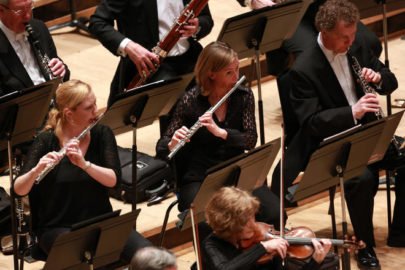 It has been announced today that the Institute of Cancer Research, London and Royal Philharmonic Orchestra have teamed up to write a piece of music in a bid to raise money for a revolutionary new cancer research building.
Entitled 'Let's Finish It', the composition is a melodic symphony, but it comes with a unique twist – it's been left deliberately unfinished. Around three-quarters of the way through the track and just before the symphony reaches its peak, it abruptly cuts to silence.
The sudden finish symbolises the unfinished state of the building – also known as 'The Centre for Cancer Drug Discovery' – and the ongoing need to find new cancer cures.
Written by composer, conductor and pianist Callum Huseyin, the enchanting piece is available to listen to on Soundcloud and will only be completed when the £15m needed to finish the research centre has been raised.
---
Philadelphia Orchestra erhält 55 Millionen US-Dollar Spende
Philadelphia Orchestra receives $55 million donation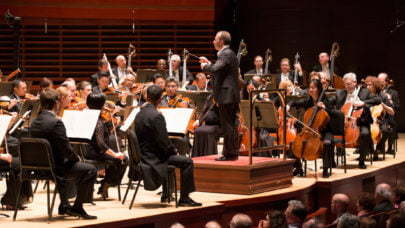 Das Philadelphia Orchestra hat ein Spende in Höhe von 55 Millionen US-Dollar (ca. 48,8 Millionen Euro) erhalten. Der Großteil der Spende ist als Schenkung vorgesehen, fünf Millionen Dollar sollen Betriebskosten decken. Überwiesen wurde das Geld, das die größte Spende in der Geschichte des Orchesters darstellt, von der Silicon Valley Community Foundation, doch die eigentlichen Spender blieben anonym. Eine ansässige Zeitung nannte ein unbekanntes Paar als Sponsoren. Das Orchester zeigte sich sehr dankbar für das Geld, 2011 mußte es nach einem Bankrott mit dem finanziellen Neuaufbau beginnen.
Die Spende zählt zu den größten jemals in der klassischen Musik getätigten Spenden. In 2002 erhielt das San Diego Symphony Orchestra eine Spende über 100 Millionen Dollar, in 2009 wurden 85 Mio. Dollar für klassische Musik in Cincinnati gespendet.
The Philadelphia Orchestra has received a donation of 55 million US dollars (approx. 48.8 million euros). The majority of the donation is intended as a gift, five million dollars will cover operating costs. The money, the largest donation in the orchestra's history, was transferred by the Silicon Valley Community Foundation, but the actual donors remained anonymous. A local newspaper named an unknown couple as sponsors. The orchestra was very grateful for the money, which had to be rebuilt in 2011 after bankruptcy.
The donation is one of the largest donations ever made in classical music. In 2002 the San Diego Symphony Orchestra received a donation of 100 million dollars, in 2009 85 million dollars were donated for classical music in Cincinnati.
For more information, read more here…
---