The Czech violinist Pavel Šporcl is in New York to receive a special prize that recognises those who have made an outstanding contribution to their cities, communities and countries.
The 'Torch-Bearer Award', which is often given to sports personalities, honours the work Šporcl has done to bring society together through music. It was presented outside the United Nations building last weekend in front of fellow luminaries and UN national delegates.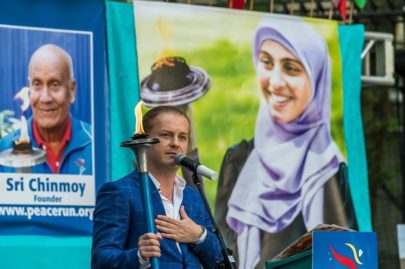 Receiving his award alongside fellow winner, Broadway and film actor Richard Kind, Šporcl said 'I am deeply proud to receive the Sri Chimnoy Torch-Bearer Award. It means a great deal to me and gives me strength to continue my work, not only as an artist, but as one of a community of artists around the world who believe that art can change lives — that this is our gift and our responsibility.'
---
China's best-known violinist Sheng Zhongguo, who was famous for his musical interpretation of "Butterfly Lovers," died of heart disease at the age of 77.
As a national level soloist of the China National Symphony Orchestra, Sheng was among the first to win honors for China on international stages.
In 1980 the Australian Broadcasting Corporation listed him as one of 'the world's greatest artists' after he performed a twelve-date concert tour in six Australian cities. He was recognised as a cultural ambassador by the government of Japan following the disastrous Kobe earthquake of 1995, when he toured the worst-hit areas to offer encouragement and inspiration to those affected.
In 1979 he performed the Bach 'Double' Violin Concerto with Yehudi Menuhin, during the latter's first visit to China; of all Menuhin's performing partners during the visit, he said that the best was Sheng, who subsequently became known as the 'Chinese Menuhin'.
盛中国 (Sheng Zhongguo), one of the best-known violin soloists in China and an active participant in music societies across the country, has died at the age of 77: https://t.co/PW4AwOhLZI pic.twitter.com/QXG6jZwNgm

— The Strad (@TheStradMag) September 10, 2018
---
Die Gegenwart ist laut. Die Gegenwart ist hässlich. Der isländische Neoklassikstar Olafur Arnalds arbeitet an ihrer Verschönerung. Seit Neuestem mit künstlicher Intelligenz und drei Klavieren. Könnte klappen.
Jetzt endlich kommt Olafur Arnalds ins Spiel. Der Isländer, 1986 in Mosfellsbaer geboren, dem Heimatort von Halldor Laxness, ist abgebrochener Highbrow-Klassiker und inzwischen mit seinem Kumpel Nils Frahm, mit Hauschka und Max Richter einer der Helden der sogenannten Neoklassik, ohne die es in den Kinos und unter Fernsehserien (Arnalds schrieb unter anderem die Musik zu "Broadchurch") doch ziemlich still wäre.
Zu der hatte Arnalds mit seinem schwerphilosophischen Noirgedudel "Eulogy for Evolution" vor elf Jahren einen der Startschüsse gegeben. Arnalds tat sich zusammen mit dem elektronischen Feinmechaniker Halldór Feldjárn und entwickelte ein musikalisches Softwareprogramm namens Stratus.
Arnalds, ein begnadeter Kleinmotivmelodiker, wollte herausfinden, "wie man den kreativen Prozess durch das Verändern des eigenen Klavierspiels manipulieren kann". Mit Stratus ist es möglich, von einem zentralen Klavier aus zwei selbstspielende weitere Klaviere anzusteuern, künstliche Intelligenz quasi zum Teil des Spiels zu machen, Kreativität in Teilen an den Computer abzutreten.

Artifical intelligence is rekindling is sparking a revival in classical music. Icelandic artist Ólafur Arnalds, known for his work on the "Broadchurch" soundtrack, has teamed up with Halldór Eldjárn to create a musical software program called Stratus. 
The award-winning artist uses his new software to turn the piano into a very different instrument. The Stratus Pianos are two "self-playing, semi-generative player pianos" – and, augmented by strings, electronics, and beats (which were co-produced by Bngrboy), they sit at the centre of Arnalds' new compositions.
ALBUMS OF THE MONTH | Multi-instrumentalist @olafurarnalds has combined a unique trio of pianos into divine harmonies over shuffling beats on 're:member' (@erasedtapesrecords). Rough Trade Exclusive clear vinyl available now in-stores and here: https://t.co/v9RyG418S2 pic.twitter.com/XMGsSXjks9

— Rough Trade (@RoughTrade) September 10, 2018
---
Das Gewandhausorchester Leipzig und die Staatskapelle Dresden geben gemeinsame Konzerte für ein friedliches Miteinander. Damit reagieren die beiden großen sächsischen Orchester auf die zunehmende Intoleranz und Aggression gegenüber anders aussehenden oder anders denkenden Menschen, eine Entwicklung, die die Musiker « mit großer Sorge" beobachten, wie sie mitteilten.
Herbert Blomstedt, Ehrendirigent beider Orchester, wird die beiden Konzerte am 15. September in Leipzig und am 12. November in Dresden leiten.
Im Gewandhausorchester und der Staatskapelle wirkten Menschen aus 20 Nationen « respekt- und achtungsvoll" zusammen, erklärten die Orchester. « Wir vertreten mit Nachdruck zwischenmenschliche Werte wie Achtung, Toleranz und Weltoffenheit." Nur durch das Wiedererlangen eines respektvollen Umgangs miteinander sei eine angstfreie und lebenswerte Gesellschaft möglich. Für diese Botschaften sollen die Konzerte ein Zeichen setzen.
The Gewandhausorchester & the @StaatskapelleDD will perform together as one in the Gewandhaus on Saturday 15 September, conducted by their mutual Conductor Laureate, Herbert Blomstedt, to advocate peace & tolerance in society. https://t.co/qvxE3mVOpD pic.twitter.com/lOB83KLUHP

— Gewandhausorchester (@Gewandhaus) September 10, 2018
Two orchestras from Leipzig and Dresden are coming together to perform two joint concerts promoting peaceful coexistence. The two major Saxon orchestras react to the increasing intolerance and aggression towards people who look or think differently – a development that the musicians observe "with great concern".
Herbert Blomstedt, Honorary Conductor of both orchestras, will conduct the concerts on 15 September in Leipzig and on 12 November in Dresden.
In the Gewandhaus Orchestra and the Staatskapelle, people from 20 nations work with great respect for one another. The orchestras said "we emphatically represent interpersonal values ​​such as respect, tolerance and cosmopolitanism."