Since becoming a member of the Staatstheater Saarbrücken ensemble last season, Peter Schöne has become an audience favourite and also worked in many projects across Europe. His numerous projects across the classical world have made him one of the most sought after baritone singers across Europe.  
Schöne is an exceptional artist who is enthusiastic about opera, lied, classical pieces and modern compositions. This drive, coupled with his unique voice, has earned him a reputation as a "brilliant baritone" (Süddeutsche Zeitung).
Peter Schöne is equally skilled in classical roles and in new music – his repertoire is extensive and his program 2019 is full of highlights. From traditional to opera, here are three of the most exciting opportunities to catch Peter Schöne this year: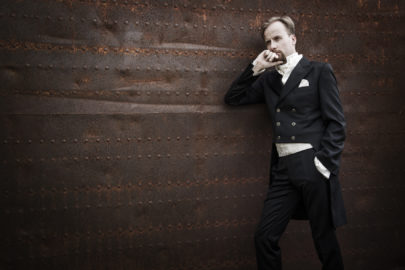 13th/14th April 2019 – St. Gallen 
The premiere of "Elijah" by Felix Mendelssohn (1809-1847) was celebrated in 1846 in Birmingham. Elijah op. 70 (MWV A 25) is an oratorio about the story of the biblical prophet Elijah. At its premiere, an audience of 2000 people cheered listening to big choirs and dramatic music. To this day, there remains a fascination with Mendelssohn's piece. 
On 13th and 14th April 2019 Peter Schöne will be singing "Elijah" at the Palm Sunday Concert of the oratorio choir of St. Gallen. The oratorio choir of St. Gallen is a traditional mixed choir with 80 active singers. The concert will be directed by Uwe Münch, who has been the musical director since 2009.
---
7th May 2019 – Solingen/8th May 2019 – Remscheid
"The secret diaries of Samuel Pepys (1633-1703) set to music for the first time in extracts by Swiss composer Luca Martin; Impressions, historical episodes from the life of the English State Secretary: a world premiere!" 
The composer Luca Martin won the first prize for his work "nihil", written for a cappella choir, at the Styria Cantat composition competition in Austria in 2014. His new work  "[pi:ps] diary" for bass (baritone), female voice, violin solo and orchestra is an extraordinary piece of composing, that challenges the musicians not only in technical precision, but also for a certain expressive quality. Peter Schöne will be performing in this extraordinary production as Baritone at the world premiere of "[pi:ps]" on 7th May in Remscheid and 8th May in Solingen. It will feature the Bergische Symphoniker and Peter Kuhn as conductor.
---
7th – 9th June 2019 – Snape Maltings Concert Hall (UK)
Thomas Larcher's widely celebrated first opera "The Hunting Gun" receives its UK premiere opening Aldeburgh Festival 2019 with three performances across the first weekend. Peter Schöne will be part of these performances featuring in the role of "Josuke".
Larcher is an internationally acclaimed composer. In 2012, he won the International category of the British Music Awards for the Double Concerto for violin and cello, commissioned and premiered at the BBC Proms with Viktoria Mullova and Matthew Barley. 2015 saw him receive the Austrian Kunstpreis for music. The same year he received the Chamber Music Society of Lincoln Center's Elise L. Stoeger Prize 2014/15, in recognition of significant contributions to the field of chamber music composition. In 2018 he was awarded the Ernst Krenek Prize of the City of Vienna and Le Prix de Composition Musicale of Fondation Prince Pierre (Monaco) for Symphony Nr. 2 Kenotaph (2016).