Classical News
Guardian
In praise of Pierre Boulez at 90
Composer George Benjamin salutes the French composer-conductor whose polemical essays and presence on the podium has transformed musical composition, institutions and taste
Telegraph
Papering the house: classical music's dark secret
The industry practice of giving away large numbers of complimentary tickets in order to boost official attendances is ethically unclear, says Rupert Christiansen
The Times
Pierre Boulez at 90 — a dedicated modernist and a master of provocation
Richard Morrison assesses the impact of a revolutionary composer, while key figures in the musical world salute his achievements
Classic FM
Debbie Wiseman's Wolf Hall soundtrack shoots to number 1 in Classic FM chart
'What a shock,' says composer Debbie Wiseman after her score for the Tudor TV drama shoots straight to the top spot in the Classic FM Chart.
Sinfini
Classical could be good for your brain
Listening to classical music regularly could be good for your brain, say researchers at the University of Helsinki.
Zeit Online
Seine Musik schwingt zwischen Techno, Pop und Avantgarde. In einer Rekorder-Session bringt Hauschka nun die Bälle zum Tanzen: eine Meditation am präparierten Flügel.
Frankfurter Allgemeine
Das Glückskind als Gottesversucher
Er ist der König des Welttheaters, als Regisseur ein Zauberer, das Genie der größten Einfachheit: An diesem Samstag wird das Wunder Peter Brook neunzig Jahre jung.
Der Tagesspiegel
Spannende Pläne für die Zukunft
Die Deutsche Oper Berlin hat viel vor 2015/16: Ein Meyerbeer-Zyklus startet, es gibt eine Uraufführung, insgesamt 179 Aufführungen auf der Hauptbühne – und für 2020 ist ein neuer "Ring des Nibelungen" angekündigt
Die Welt
Die teuerste Wabenstruktur der Welt
Die Lage ist spektakulär, die Kosten sind es auch. Anfang 2017 soll die Elbphilharmonie eröffnet werden. Der Entwurf von Herzog & de Meuron beherrscht schon Hamburgs Skyline. Ein Baustellenbesuch.
The New York Times
Seoul Philharmonic Orchestra Racked by Infighting
SEOUL, South Korea — When the respected Seoul Philharmonic Orchestra announced this month that it was canceling its United States tour set for April, it cited fiscal woes.
The Washington Post
SXSW 2015: When a music festival feels like an after-party
AUSTIN — Some come to South by Southwest seeking glory. Others come to roll their eyes at it.
Twitter
Wigmore Hall ‏@wigmore_hall: Hey everybody, please retweet and spread the word about our amazing £5 tickets, Under 35s Scheme | Wigmore Series | http://wigmore-hall.org.uk/wigmore-series/under-35 …
Royal Opera House ‏@RoyalOperaHouse: A rarely-seen view to kick off #secretsMW – the view from within our orchestra pit #MuseumWeek ^C
Spitalfields Music ‏@SpitsMusic: This wk 150 Tower Hamlets children take over! Discover more on the Takeover blog: http://bit.ly/1yvZpDI  #SMTakeover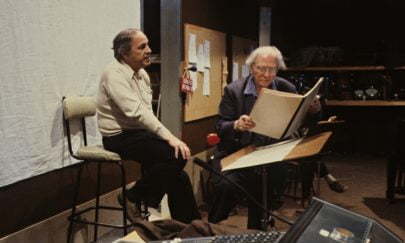 Composed … Pierre Boulez (left) and Olivier Messiaen in 1977. Photograph: Roger Viollet/Rex