Classical News
Guardian
From Philip Glass to St Hildegard of Bingen – classical music's 10 best moonlighters
They've been cab drivers, mystics and ornithologists. One was even a prime minister. Meet music's greatest multi-taskers
Classic FM
Germanwings plane crash: opera singers among victims
Opera singers Oleg Bryjak and Maria Radner are among those who died in the Germanwings Flight 9525 plane crash in the French Alps on Tuesday.
Classical Music Magazine
Orchestra tax relief: government widens criteria
The treasury has released its response to the consultation on tax relief for orchestras, significantly broadening its definition of what constitutes an orchestra.
Sinfini
Concerts for carers of children with autism
As new cultural ambassador for the National Autistic Society, the pianist Noriko Ogawa will play two concerts this spring expressly for the families and carers of sufferers.
The Strad
Carbon fibre violin wins German Musical Instrument Award
The violin, by mezzo-forte Streichinstrumente, shared the top prize in its category with a wooden instrument by Andeas Haensel
Frankfurter Allgemeine
Ein undankbarer Job, vor allem, wenn man selbst dagegen protestiert: Zwei Orchester werden zu einem zusammen geschlossen und brauchen einen Dirigenten. Wer geht also vor dem "SWR-Orchestra Stuttgart" in Stellung?
Die Welt
Bayreuths Alberich ist unter den Absturzopfern
Auf dem Rückflug vom Barcelona-Gastspiel: Der Bassbariton Oleg Bryjak starb beim Germanwings-Unglück. Er war im Ensemble der Deutschen Oper am Rhein. Und sollte im Sommer wieder in Bayreuth singen.
concerti
Die richtigen Töne für Jedermann
1990 gründete Klaus Peter Samson die SängerAkademie Hamburg, um Studierende im Chor- und Popgesang auszubilden. Zum 25-jährigen Jubiläum erklingt nun Händels Messias
pizzicato
Italiens Opern zahlen gut, aber spät
Laut der März-Ausgabe des italienischen Musikzeitschrift 'Classic Voice' liegen in Italien die Gagen für Dirigenten der 'Upper Class' – Barenboim, Chailly, Mehta, Muti, Rattle – bei 30.000 Euro.
Vor fünfzehn Jahren war die luxemburgische Komponistin Helen Buchholtz eine komplett Unbekannte, und selbst Lou Kosters Schaffen war nach deren Tod bei den allermeisten Musikern allmählich in Vergessenheit geraten.
The Washington Post
Norman Scribner, who founded D.C. Choral Arts Society, dies at 79
Norman O. Scribner, founder and artistic director of the Choral Arts Society of Washington, one of the region's preeminent symphonic choirs, died March 22 at his home in the District.
Le Monde
Hasard du calendrier ou changement de cap ? Pour la première fois depuis sa création en novembre 2008, la manifestation « Orchestres en fête » a troqué son rendez-vous automnal pour une nouba de printemps.
Twitter
Barbican Centre @BarbicanCentre : Marking 400 years since the Bard's death, we present a series of international Shakespeare #shakespeare400
BBC ScottishSymphony ‏@BBCSSO : Take Over Day No 2 is underway as Lawthorn Primary in Irvine Connect It! with @rachleachmusic #TENPIECES
Hazard Chase Ltd. ‏@hazardchaseltd : Grant Llewellyn announced as Music Director of the Orchestre Symphonique de Bretagne http://www.hazardchase.co.uk/7464-grant-llewellyn-announced-as-music-director/ …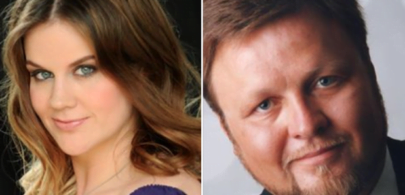 Bryjak and Radner were on a return flight from Barcelona after performing in Wagner's Siegfried at the Gran Teatre del Liceu. Photo: Classic FM