What happened in this week's Classical News? 
'To deny people who cannot afford music lessons the possibility of trying is criminal' – David Arnold, composer
Poorer families in the UK are at risk of under-representation in the music industry as children are being priced out of learning to play musical instruments, a new report suggests.
Families from lower socioeconomic backgrounds, earning less than £28,000, are half as likely (19 per cent) to have a child learning an instrument than families who earn at least £48,000 (40 per cent).
 The figures from the Musicians' Union (MU) also show that more than two in five (41 per cent) of those from low-income families say instrumental music lessons are beyond their household budgets.
This is worrying and sad. Learning a musical instrument teaches you much more than just how to physically play that instrument. "Poorer children in UK are being priced out of learning to play musical instruments, report warns" https://t.co/ZwGXaLGNWA

— Alison Rowley (@alisonrowley) November 11, 2018
This is really sad. I wouldn't be doing what I'm doing without school violin lessons. You've got to give kids a chance. Talent isn't an exclusive right of the wealthy. https://t.co/xTvXPeRlb5

— Morna Young (@mornayoung) November 7, 2018
I am so lucky and grateful to work in such a supportive school who do so much to fund life changing access to music. Music teaches creativity, displine, develops confidence, relieves stress and can shape careers. Nobody should be denied access to that.https://t.co/UP1ASSw5Ui

— Jack Pierce (@JackPierce1994) November 6, 2018
---
Global royalty collections for creators of music, audiovisual, visual arts, drama and literature rose to a record high of €9.6bn (£8.4bn) in 2017, according to the CISAC Global Collections Report 2018.
Global royalties from digital income topped the €1bn mark for the first time (£761.6m), with a 24 percent increase in 2017.
Figures over five years also show that digital royalty collections have nearly tripled (up 166 percent), boosted by the streaming boom and video streaming services.
Across all regions, Europe led the way in 2017, with $4.9m (£3.7m) in collections, up 5.2 percent.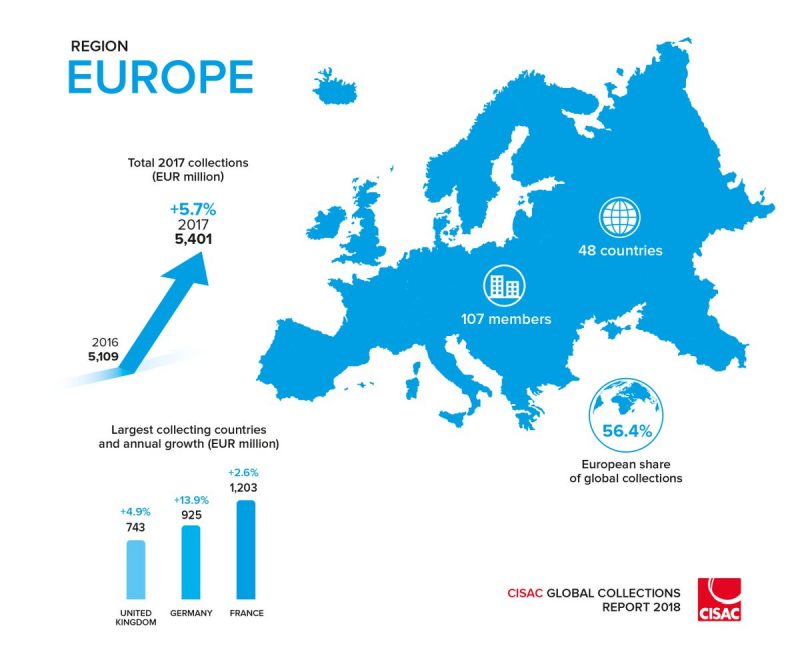 The UK is the third largest collecting country in Europe, with annual growth in 2017 up 4.9 percent. It follows Germany in second place (up 13.9 percent) and France as the largest collecting country in Europe (up 2.6 percent).
---
The Music for Youth (MFY) Proms at the Royal Albert Hall are the apex of the national music charity's entire annual season. The performances ran from Monday 5th until Wednesday 7th November.
Across three nights, a thousand young musicians from across the country took to the stage, showcasing full-scale orchestral pieces, jazz arrangements, chamber works, rock and choir performances.
Founded in 1970, Music for Youth (MFY) is a national youth music charity that provides free opportunities for over 60,000 young people aged 21 and under to both perform and experience live music, through a season of nationwide festivals, concerts and projects.
These great photos featuring our staff and students have emerged from Monday's Music for Youth Proms at the RAH. We think they have captured the night perfectly and wanted to share. @LivabilityUK @BSOrchestra pic.twitter.com/B0qWxq6suL

— Livability Victoria Education Centre (@LivabilityVEC) November 8, 2018
WHAT A NIGHT. Absolutely amazing experience performing on stage at the Royal Albert Hall with the Greater Gwent Youth Wind Orchestra on the first night of the 2018 Music For Youth Proms. Won't be forgetting that in a while! @gwentmusic @musicforyouth #MFYProms pic.twitter.com/Q8TffPiszh

— Matt Roche (@MattRoche23) November 5, 2018
---
Conductor Andrew Manze united forces from Hannover and Liverpool for two special performances of Benjamin Britten's War Requiem.  The Royal Liverpool Philharmonic Orchestra (RLPO) joined the NDR Radiophilharmonie Orchestra and the Knabenchor Hannover Choir for the performances on the 3rd and 10th November.
Both Liverpool and Hannover are UNESCO Cities of Music, and both were hugely affected by the war: over 90% of Hannover city centre was destroyed by bombing, and more than 12,000 soldiers from Liverpool signed up to fight the war at sea.
Amazing War Requiem at Liverpool Cathedral with Liverpool & Hannover orchestras & choirs – very powerful & moving pic.twitter.com/rZJCCp9u7x

— Steve Mahon (@SteveMahon9) November 10, 2018
The European Union Youth Orchestra (EUYO) will also commemorate the Armistice, performing with chief conductor Vasily Petrenko beneath the Arc de Triomphe in Paris during a ceremony marking the centenary of the end of World War One.
The event is organised by the French government, and will be attended by many world leaders. The orchestra will perform Ravel's Bolero, and works by Yo-Yo Ma and Beninese singer Angelique Kidjo.
This is the power of music.#EUYO members rose up while playing in #WW1 Armistice Commemoration to honor victims of all sides. World leaders and heads of states look at them, and one by one stand up, warmly clapping the end of the piece.#Armistice100 #11Novembre #WW1ArmisticeDay pic.twitter.com/CbfowMXCz6

— EUYO (@EUYOtweets) November 12, 2018