It's been such a fantastic campaign, we wanted to share some of the press highlights! Have a look below…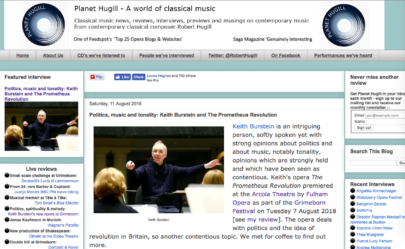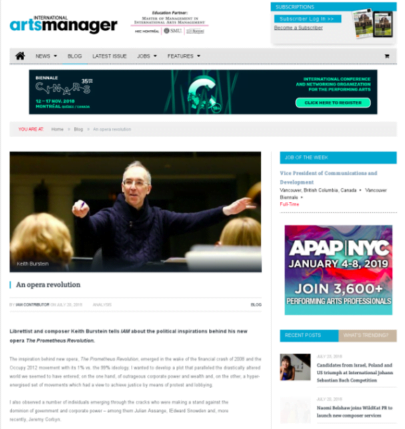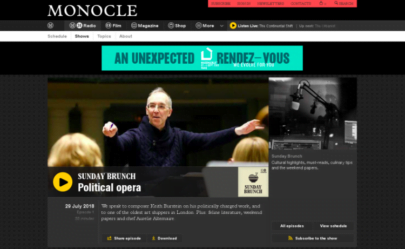 Went to composer, Keith Burstein's new opera "The Prometheus Revolution" tonight. It's terrific in its music, singing & narrative about how humanity steps beyond war and tyranny. It's at the Arcola Theatre in Hackney for next couple of nights as part of Grimeborn Opera Festival.

— John McDonnell MP (@johnmcdonnellMP) August 7, 2018
"Highly charged and richly passionate music….
An uneasy mix: politics, spirituality and melody in Keith Burstein's new opera
A new opera which combines politics, new-age spirituality and an unashamedly tonal score.
…Burstein's music is unashamedly tonal and after the complex piano prelude we were plunged into a torrent of melody. Just as the plot began in media res, Burstein's score is similarly highly charged and passionate from the outset. His writing is a stream of melody; as a composer, I also write tunes in my operas but mine are usually hard won and I cannot help but admire Burstein's sheer fertility…
…Burstein used familiar tropes in unfamiliar ways…
…The confined space also meant that it was rather a noisy affair at times, in richly passionate music you can hardly expect singers to shut up, and I longed for a larger auditorium…
…I have to commend the cast, all of whom gave sterling performances. Each singer had their own moment or moments, and there were a lot of notes. Everyone really committed themselves to the performance and to the piece, and their support for new opera is admirable."
"…Burstein's music… had an adroitly conceived mixture of styles indebted not only to opera, but to Broadway and pop ballads. The singers here, led by Alex Haigh, as the billionaire, and Lucie Louvrier as his infatuated PA, were uniformly excellent, clearly relishing their voice-lines, and acting skilfully. They were accompanied throughout by a pianist (Ben Woodward, a skilful performer, here): but it seemed to me that Burstein's score would have made a much stronger impact if it had been orchestrated. A project for the future: though I hope Burstein has the opportunity to embark on fresh dramatic projects, as he quite clearly has both talent and imagination."
"…Prometheus stole fire from the gods in order to ensure human progress, and met with a grisly eternal punishment as a reward: Zeus' eagle devouring his liver daily. Keith Burstein's new opera The Prometheus Revolution attempts to engage with this Greek myth through a story of modern-day capitalism and revolt. Peter (Alex Haigh) redirects two trillion pounds from the City to the Prometheus Peace Movement, revivifying a socially rebellious organisation which he founded, but left to become a successful banker or deep undercover rebel agent: his erstwhile partner in the Prometheus Movement, Aaron (Robert Garland), can't be sure which, as the (mainly sexual) tensions of their youth threaten to break the Movement apart just as civil war finally gets going. Fulham Opera field a dazzlingly strong young cast to give Burstein's opera its world premiere; singing is lyrical and compelling throughout, piano accompaniment from Ben Woodward richly expressive, direction from Sophie Gilpin clear and clever. Sunny Smith's pared-down, efficient design uses a grid of steel ropes on a platform in the centre of the playing space to suggest the glass and steel of a City office, or a prison cell; the addition of blinds, swags or banners suggests meeting rooms, hotel balconies and Movement HQ…..
…However, despite music, design and direction all being on point, The Prometheus Revolution is a severe test of performance…
…Caroline Carragher's Wona is outstanding; James Schouten's Des, brilliantly vivid; Nick Dwyer's oily Zapruder, eye-catchingly charismatic…
…what [the singers] achieve with this piece is seriously impressive."
"There were glimpses of irony in Keith Burstein's new opera The Prometheus Revolution (August 10), as political plotting was borne on slick dance rhythms, but earnestness prevailed in this convoluted, crowded story of freedom fighters, dictators, big money, lost love and 'a vortex of social and economic chaos'. Burstein, who wrote his own libretto, is an exponent of 'Super Tonality' and favoured fervid, expansive arioso. In one sequence, explicit harmonic reference seemed to be made to Rachmaninov's Piano Concerto No. 2, while the closing, hope-filled minutes hinted at 'Nessun dorma'. The mainly young cast, headed by Alex Haigh as a billionaire-turned-rebel and Nick Dwyer as his heartless antagonist, rose with sonorous commitment to the score's outpourings and Ben Woodward was nothing less than heroic at the piano. As music director of Fulham Opera, which also presented its edgy and gripping Lucia di Lammermoor at Grimeborn, he will face more freedom fighters and dictators in November, when that intrepid company takes on Don Carlo."
Audience feedback
"Great show, incredible music, amazing night." – Danai Nardi
" It has completely changed my view of opera. 
Great journey and incredibly deep ideas." – Abdurahman Jafar
"An unforgettable experience. 
Tremendously moving music." – Ken Jones
"I left humming the tunes." – Richard Stoner
"Good to see how well your opera has been received. 
Not at all surprising given its quality of composition 
and the outstanding performance by Fulham Opera." – David and Sue Fergusson