Classical News
The Telegraph
Keep Radio 3 distinct from Classic FM, BBC watchdog says
BBC Trust report says Radio 3 must make sure it is distinct from its rival Classic FM, after move to make it "accessible"
Guardian
Classical composers – and the pop stars who channel their moves
For Liszt, read Jimi Hendrix … for Wagner, Kanye West? Canadian MC and songwriter Chilly Gonzales – who learned his craft through classical piano – reflects on the crossover between the pop and orchestral worlds
Classic FM
2015 Edinburgh International Festival programme announced
Violinist Anne-Sophie Mutter and pianists Lang Lang and Yuja Wang are among the classical performers heading to Edinburgh this summer.
Sinfini
The shady underworld of the New York mafia is the subject of a new 'choral jazz drama' to be premiered by the Crouch End Festival Chorus plus jazz singers and ensemble in April.
The Strad
Jacqueline du Pré performs Saint-Saëns's Cello Concerto no.1
Rare footage of British cellist Jacqueline du Pré performing Saint-Saëns's First Cello Concerto.
Der Tagesspiegel
Komische Oper stellt Jahresprogramm 2015/16 vor
Vielfalt und Verve
klassik.com
Einseitige Kritik an vorgelegtem Businessplan statt ausgewogener Diskussion
Grüne machen Stimmung gegen Bonner Beethoven-Festspielhaus
artsjournal
A (Female) Bach Scholar takes down the Anna-Magdalena-wrote-the-cello-suites theory for good
"I offer this analysis in the hope that it might help clarify some of the confusions and defuse some of the widely-felt frustrations."
El país
Daniel Barenboim y Zubin Mehta quieren salvar Ibermúsica
La voz de alarma lanzada por Alfonso Aijón para salvar Ibermúsica, el ciclo sinfónico que dirige desde hace 45 años, ha causado efecto en el mundo de los intérpretes y creadores al más alto nivel.
Twitter
Sinfini Music ‏@SinfiniMusic: Chopin. If you don't know where to start, start here. http://www.sinfinimusic.com/uk/features/guides/composer-guides/top-10-musical-works-by-chopin …
Classic FM @ClassicFM: The celestial event of the century is now a classical quiz! Play it here: http://classfm.co/xFXA9Y  #SolarEclipse
Classical Music @ClassicalMusic_: Departing @NYPhil music director Alan Gilbert to give RPS lecture: 'Orchestras in the 21st Century; A New Paradigm' http://bit.ly/1I4cWtz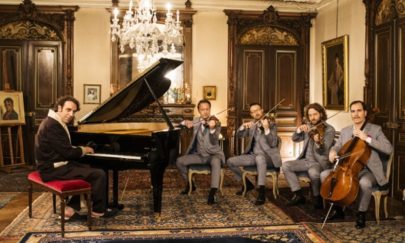 Chilly Gonzales and the Kaiser Quartett. Photograph: Alexandre Isard/PR