Classical News
Guardian
Giving a musical voice to war's unsung victims
Composer Sally Beamish has turned one of Andrew Motion's war poems into a new oratorio. The former poet laureate explains their tribute to the 'damaged living'
BBC Radio 3 doesn't score highly with Ed Vaizey
Culture minister says he prefers the 'absolutely brilliant' Classic FM to its BBC rival because it is 'accessible and informal'
Times
Richard Morrison: 'Britain plays second fiddle when it comes to Strads'
It's awful that vintage violins lie silent when there are hundreds of brilliant players desperate to bring them to life
Classical Music Magazine
Ulster Orchestra in crisis talks with funders and culture minister
A statement released by the Ulster Orchestra acknowledges the precarious situation of its finances and suggests that, in the still uncertain event of the orchestra surviving beyond the current financial year, its future will be 'not as we have come to know it over the last 50 years'.
Classic FM
New app explains music as you listen – but you need to leave your mobile ON during concerts
The Philadelphia Orchestra has released an app that turns your mobile phone into an interactive concert programme.
The Strad
Northern Ireland's Ulster Orchestra faces imminent closure, warns chairman
The ensemble has appealed for £500,000 in emergency funding from Belfast City Council
Pizzicato
Milanov Named Music Director In Chautauqua
49-year-old Bulgarian conductor Rossen Milanov has been named the ninth music director of the Chautauqua Symphony Orchestra (NY).
London Evening Standard
The 1000: London's most influential people 2014 – Music makers
British artists are responsible for one in eight albums sold around the world – proof of London's flourishing music scene. From urban soul to contemporary classical, there is room for new and old
Spiegel Online
Bayreuther Festspiele: Gregor Gysi vertritt künftig die Wagner-Familie
Der Linke Gregor Gysi begibt sich in schillernde Gesellschaft: Als Anwalt wird er künftig die Familie Wagner vertreten.
Klassik.com
Kent Nagano kritisiert Ausrichtung der Bildungspolitik nach Pisa-Studien
Weder Sprachen noch Künste würden in Studien berücksichtigt
pizzicato
Verschätzt: Konzertreihe im Pariser 'Palais Royal' nach der ersten Saison abgesagt
Die komplette Konzertsaison 2014/15 der 'Lundis Musicaux' in dem von Kardinal Richelieu erbauten Theater des 'Palais Royal' in Paris wurde abgesagt.
concerti
"Der christliche Glaube ist mir eine starke Inspiration"
Der Pianist Martin Helmchen erzählt von seinem Weg auf die großen Bühnen der Welt, von Vaterzeit und dem höheren Ziel der Musik
The Washington Post
When art sings: How paintings have fared on the musical and opera stage
Mussorgsky's "Pictures at an Exhibiton" is one of the most famous works of concert music; even if you think you don't know it, you know it.
The New York Times
Working and Playing at the Side of the Master Artist
Musicians From Marlboro Take Their Lessons on the Road
Tweets
Wigmore Hall ‏@wigmore_hall: Find out more about Wigmore Hall's permanent exhibition of Clive Barda's photos: http://bit.ly/1ri2Qe2  #WHBarda
Telegraph Classical @TeleClassical: Great piano playing from Richard Uttley, but not sure about the video… http://fw.to/kmo6zyN 
Classic FM @ClassicFM: You can submit your nominations for the 2015 Music Teacher Awards: http://classfm.co/fh9VUZ  @MusicEdExpo
BBC Music Magazine @MusicMagazine: Are the new Music Teachers' Board exams too soft or a realistic alternative to traditional grade exams? http://bit.ly/1qHbOlu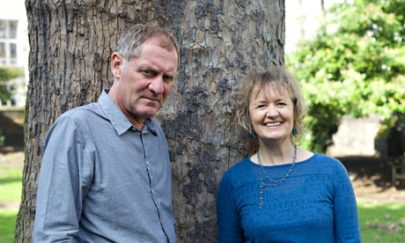 Andrew Motion and Sally Beamish: collaborators on the oratorio Equal Voices. Photograph: Paul Joyce