Next Tuesday, Raymond Yiu will be featuring on BBC Radio 4's 'One to One' show, sharing his story with Kate Silverton, and discussing the fear of failure and his route into composition. Born in Hong Kong, Raymond began learning the piano at the age of four, and moved to England at just seventeen.
His works have been shortlisted for many awards, and was nominated in three consecutive years by the Society for the Promotion of New Music (SPNM). His piece Beyond the Glass, performed and recorded for broadcast by the BBC Singers, was shortlisted for the BASCA British Composer Awards 2004. Raymond was also winner of the chamber category of the British Composers Awards in 2010.
Speaking of his work he states: 'For me, composing is like exploration. Curiosity and the love of challenge are the two main driving forces'. Raymond also speaks through his music, searching for new and exciting things to say, both honestly and on a personal level, using influences from his Chinese heritage and culture in his compositions.
One to One will be aired on BBC Radio 4 at 9.30am on Tuesday 9th October http://www.bbc.co.uk/programmes/b01n651k.
On the same evening, three new pieces by Raymond will be premiered at Christ Church Spitalfields as part of the Song in the City series (‪http://songinthecity.eventbrite.co.uk/ ).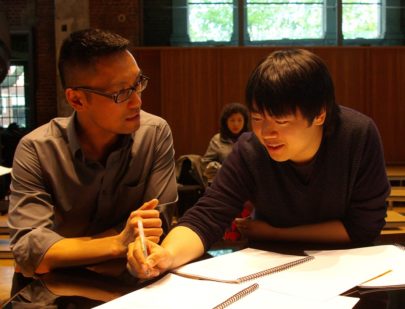 Image credit Malcolm Crowthers