These children are playing instruments using recycled materials from a landfill site
A unique and inspiring orchestral project has prompted a revealing documentary about life in Cateura, Paraguay, explaining how music brings hope to the landfill town.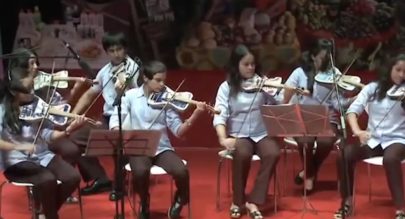 Remarkable young people in the poverty-stricken landfill town of Cateura, Paraguay, are the stars of a moving documentary, playing unique instruments made from rubbish from a landfill site.
Many children forced to work in the landfills have been brought together by classical music in an ensemble known as the Recycled Orchestra.
The film, directed by Graham Townsley, follows the story of ecological technician Favio Chávez, who began using the rubbish in the landfill to create instruments for the children in nearby neighbourhoods.
---
Hanna Hartman named composer-in-residence at Huddersfield Contemporary Music Festival
Swedish sound artist, composer and performer Hanna Hartman has been named composer-in-residence at Huddersfield Contemporary Music Festival (hcmf//), which takes place from 15-24 November 2019.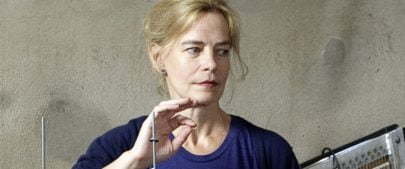 Hartman's work makes use of field recordings and found objects, and is centred around live performance. She has written music for radio and designed sound sculptures, creating pieces described as more akin to dioramas than to music.
hcmf// has commissioned a new 40-minute work from Hartman, which she will perform as part of a solo concert on 17 November.
Other highlights from the festival's opening weekend include German string quartet SONAR, joined by soprano Juliet Fraser, performing the world premiere of a new work by Naomi Pinnock. This is paired with the UK premiere of a work by Swiss composer Heinz Holliger, Increschantum, a six-movement setting of poems by Luisa Famos.
---
Niederländischer Dirigent Haitink beendet Karriere 
Der niederländische Dirigent Bernard Haitink hat das Ende seiner aktiven Laufbahn angekündigt. Er werde am 6. September im schweizerischen Luzern sein letztes Konzert geben, sagte der 90-Jährige der niederländischen Zeitung "De Volkskrant" am Mittwoch. An diesem Samstag wird der Niederländer zum letztenmal im Amsterdamer Concertgebouw dirigieren, wo er 27 Jahre lang Chefdirigent war.
Bereits Anfang des Jahres hatte er anlässlich seines 90. Geburtstages angekündigt, er wolle ein Sabbat-Jahr nehmen. "Ich bin 90", sagte er jetzt "De Volkskrant". "Wenn ich sage, dass ich ein Sabbatical nehme, dann ist das, weil ich nicht sagen will: ich höre auf. Ich habe keine Lust zu all den offiziellen Abschiedssachen, aber es ist eine Tatsache, dass ich nicht mehr dirigieren werde." Der Abschied schmerze auch, sagte er, aber die Gefühle behalte er für sich. "Wenn ich eine Träne vergieße, dann tu ich das privat."

The Dutch conductor Bernard Haitink has announced the end of his active career. The 90-year-old man told the Dutch newspaper "De Volkskrant" on Wednesday that he would give his last concert in Lucerne, Switzerland, on 6 September. This Saturday the Dutch conductor will conduct for the last time in Amsterdam's Concertgebouw, where he was chief conductor for 27 years.
He had already announced at the beginning of the year on the occasion of his 90th birthday that he wanted to take a Sabbatical year. "I am 90, De Volkskrant," he said. "When I say I'm taking a Sabbatical, it's because I don't want to say that I'm quitting. I don't want to do all the official farewell stuff, but it's a situation that I will no longer be conducting anymore." He said the farewell hurt too, but he kept his feelings to himself. "When I shed a tear, I do it privately."