New Glasgow theatre space made entirely of recycled pianos in UK first
Inside a cavernous steel hut in the middle of Glasgow's Springburn Park, the sweeping arc of keyboards, lids and carved panels has been taking shape, creating the UK's first permanent auditorium made entirely of recycled pianos.
Using mainly upright instruments, with a baby grand artfully sliced in half to make a corner balcony, about 40 pianos have been expertly disarticulated to create the tiered seating.
"When you dismantle a piano you end up with a kit of different parts, from the ornate front pieces to the strong planks normally hidden beneath the key," explains Tom Binns, who founded the Glasgow Piano City project in 2013, finding new uses for unwanted instruments in public places from hospitals to bookshops.
It was Binns who brought together a Glasgow community activist with big plans and the Edinburgh-based instrumental innovators Pianodrome in what he says is a testament to the collaborative potential of social enterprise.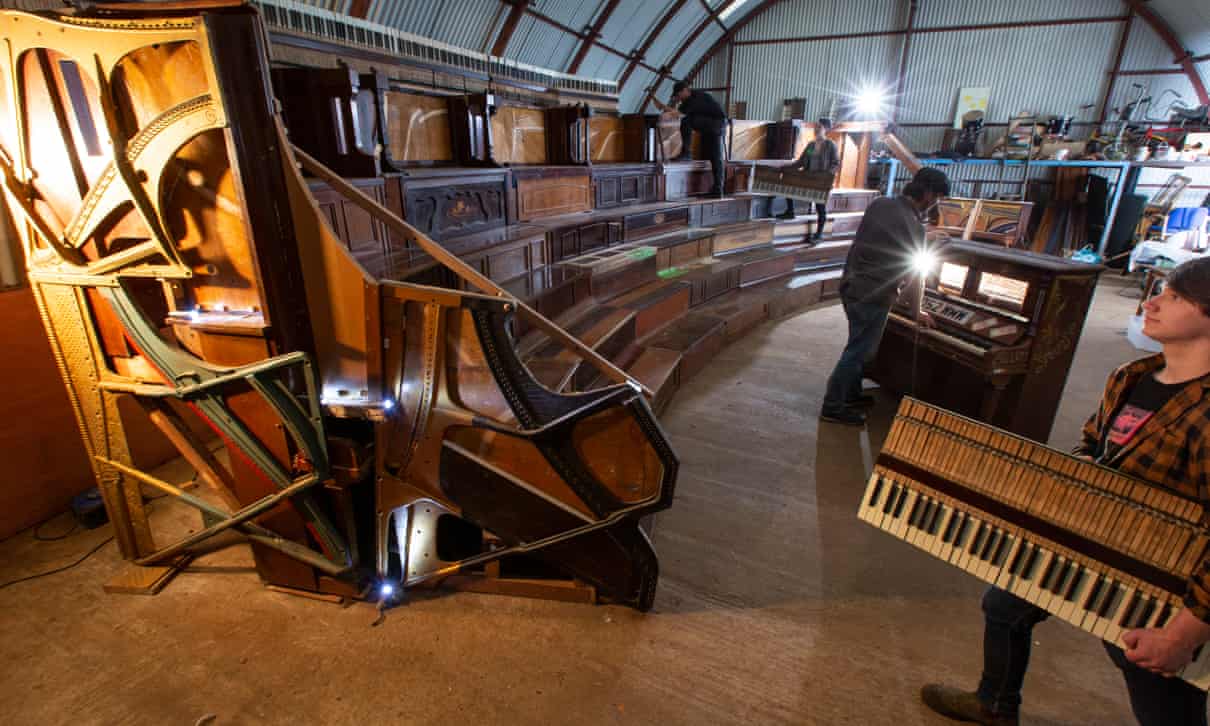 ---
Corona-Studie bei Regensburger Domspatzen soll Schule sicherer machen
Mit einer Corona-Studie bei den Regensburger Domspatzen will die Staatsregierung den künftigen Schulalltag in Pandemiezeiten in Bayern vorbereiten. "Ziel ist, den Schulbetrieb künftig so gut es geht zu ermöglichen und großflächige Schulschließungen aufgrund von Corona-Infektionen zu vermeiden", sagte Wissenschaftsminister Bernd Sibler (CSU) am Freitag in München.
Die Studie zur Vermeidung von Corona-Ausbrüchen solle dazu beitragen, praktikable Strategien für eine sichere, effiziente und sinnvolle Testung von Schülern auf das Coronavirus zu entwickeln.
Im Rahmen der freiwilligen Studie werden Schüler im Alter von 10 bis 21 Jahren 16 Wochen lang regelmäßig auf das Coronavirus getestet. Dies erfolgt mittels eines Rachenabstrichs, den die Schüler selbst vornehmen können. Die Ergebnisse erhalten die Schüler über eine datensichere Software. Auch die Schulleitung wird anonym über die Testergebnisse informiert, um den Schul- und Chorbetrieb entsprechend zulassen zu können. Wird eine Corona-Infektion nachgewiesen, tritt der Quarantäneplan der Schule in Kraft.
Corona study at Regensburger Domspatzen to make school safer
With a corona study among the Regensburger Domspatzen, the state government wants to prepare the future everyday school life in pandemic times in Bavaria. "The aim is to make school operations as good as possible in the future and to avoid large-scale school closures due to corona infections," said Science Minister Bernd Sibler (CSU) on Friday in Munich.
The study on the prevention of corona outbreaks should help to develop practicable strategies for safe, efficient and meaningful testing of students for the corona virus.
As part of the voluntary study, students aged 10 to 21 years are regularly tested for coronavirus for 16 weeks. This is done by means of a throat swab, which the students can take themselves. The results are provided to the students via data-secure software. The school management is also informed anonymously about the test results in order to be able to allow school and choir operations accordingly. If a corona infection is detected, the school's quarantine plan comes into effect.
---
A quoi va ressembler la nouvelle saison du Théâtre du Capitole de Toulouse?
Pour sa 3e saison en tant que directeur artistique du Théâtre du Capitole de Toulouse, qui regroupe l'Orchestre national du Capitole (ONCT dirigé par Tugan Sokhiev), le Choeur et la Maîtrise du Capitole (dirigés par Alfonso Caiani) et le Ballet du Capitole (dirigé par Kader Belardi), Christophe Ghristi propose une programmation ambitieuse qu'il souhaite, selon ces mots : « imprégnée de beauté, d'émotion et d'esprit. Plus que jamais, nous croyons en l'effet magique des chefs-d'œuvre sur nous ».
Du classique en ouverture de la saison fin septembre avec Les Pêcheurs de perles de Georges Bizet qui donnera l'occasion, rare et heureuse, d'avoir sur scène les 3 forces artistiques du théâtre: l'orchestre, le chœur et le ballet. Ce sera pour le chorégraphe Thomas Lebrun sa 1ere mise en scène d'un opéra que dirigera Emmanuel Plasson. Parmi les 1ères la saison prochaine à Toulouse, Le Viol de Lucrèce de Benjamin Britten fin novembre et Eugène Onéguine de Piotr Ilich Tchaïkovski en janvier 2021 avec, pour la 1ère fois, le baryton Stéphane Degout dans le rôle-titre. Des morceaux de choix avec, en mars 2021, Pelléas et Mélisande de Claude Debussy mis en scéne par Eric Ruf, administrateur général de la Comédie-Française et, le mois suivant, Les Noces de Figaro de WA Mozart qui verront la prise de rôle de Karine Deshayes en Comtesse Almaviva.
What will the new season of the Théâtre du Capitole in Toulouse look like?
For his 3rd season as Artistic Director of the Théâtre du Capitole de Toulouse, which brings together the Orchestre national du Capitole (ONCT directed by Tugan Sokhiev), the Choir and the Maîtrise du Capitole (directed by Alfonso Caiani) and the Ballet du Capitole (directed by Kader Belardi), Christophe Ghristi proposes an ambitious programme that he hopes will be, in these words: "imbued with beauty, emotion and spirit. More than ever, we believe in the magical effect of masterpieces on us".
Classical music at the opening of the season at the end of September with Les Pêcheurs de perles by Georges Bizet, which will give the rare and happy opportunity to have on stage the 3 artistic forces of the theatre: the orchestra, the choir and the ballet. It will be for the choreographer Thomas Lebrun his first staging of an opera directed by Emmanuel Plasson. Among the first ones next season in Toulouse, Le Viol de Lucrèce by Benjamin Britten at the end of November and Eugène Onéguine by Piotr Ilich Tchaikovski in January 2021 with, for the first time, the baritone Stéphane Degout in the title role. In March 2021, Claude Debussy's Pelléas et Mélisande, directed by Eric Ruf, general administrator of the Comédie-Française, and, the following month, Mozart's Les Noces de Figaro, in which Karine Deshayes takes the role of Countess Almaviva.