RNCM appoints deputy principal (performance & programmes)
The Royal Northern College of Music (RNCM) has announced the appointment of Manus Carey to the new role of deputy principal (performance and programmes), commencing 1 May 2019.
Carey joined the RNCM in September 2017 as director of performance, bringing extensive experience from his previous role as executive producer at the Royal Scottish National Orchestra (RSNO).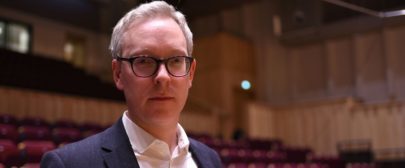 During his time as director of performance, he has presided over a number of significant innovations in student performance. As deputy principal (performance and programmes), Carey will assume strategic leadership and over-arching responsibility for the college's academic programmes as well as performance activities, aligning the RNCM's performance programme with the academic training needs of students.
He will also have responsibility for access and participation, ensuring the college reaches out across the wider community to support people of all ages and backgrounds and help develop the next generation of talented young musicians who might aspire to study at the conservatoire.
---
Guildhall School of Music & Drama singers to join Jette Parker Young Artists Programme
Guildhall School of Music & Drama has announced that tenors Filipe Manu and Andrés Presno have been selected by the Royal Opera House as Jette Parker Young Artists for the 2019/20 season.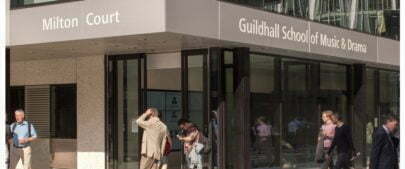 Manu and Presno join the prestigious programme in September 2019. The programme is formed of five singers and one stage director, selected from more than 508 applicants from 61 countries across the globe:
---
Solo el 1% de las obras sinfónicas programadas en orquestas españoles son de mujeres, concluye un estudio
La asociación Clásicas y Modernas, en colaboración con la Fundación SGAE,  Mujeres en la Música y Mujeres Creadoras de Música en España, ha elaborado el estudio ¿Dónde están las mujeres en la música sinfónica?, en el que se analiza el papel de la mujer dentro de esta disciplina. Los datos ponen de manifiesto que la participación de la mujer en este campo está aún muy lejos de lo que sería deseable en términos de paridad e igualdad. El análisis ha tomado como referencia los conciertos ofrecidos por las orquestas españolas en la temporada 2016-2017.
Así, de los resultados obtenidos se desprende que el mundo de la música clásica es uno de los territorios masculinos por excelencia: solo el 1% de las obras programadas por las orquestas sinfónicas españolas en la temporada 2016-2017 corresponden a mujeres.
Asimismo, solo el 5% de los directores de orquesta son mujeres, alcanzando la cifra de 8 directoras frente a 167 directores. Estas 8 directoras han dirigido en total el 4% de los conciertos programados, siendo 24 las obras dirigidas por mujeres de 668 conciertos analizados. Sin embargo, las aulas de los conservatorios superiores de música están llenas de féminas; concretamente, el 43% de los titulados son mujeres.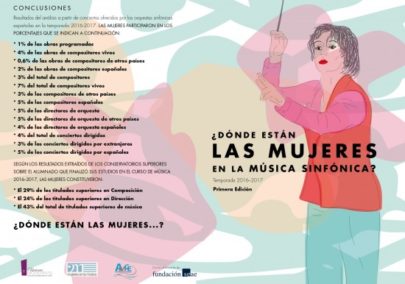 Only 1% of symphonic works programmed in Spanish orchestras are by women, concludes a study. 
The association Clásicas y Modernas, in collaboration with the SGAE Foundation, Mujeres en la Música (Women in Music) and the Association of Women Music Creators in Spain has carried out a study: 'Where are the women in symphonic music?', analysing the role women play in this discipline. The data shows that female participation in Spain is still a long way from ideal in terms of equality. The study was based on concerts offered by Spanish orchestras during the 2016/17 season. 
The results show that the world of classical music is a masculine territory for excellence: only 1% of the works programmed for Spanish symphonic orchestras in 2016/17 were written by women. 
Similarly, only 5% of the conductors are women – 8 out of 167. These 8 conductors have directed, in total, 4% of the programmed concerts, with 24 works conducted by women out of the 668 concerts analysed. Despite this, the classrooms of higher education music conservatoires are full of women; in fact, 43% of graduates are women.