In today's news: Instrument-maker creates da Vinci's 'viola organista', The Refugee Orchestra Project's film explores topics like jobs the refugess get, and Abbey Road Red connects tech startups with studio's experts and facilities. Kay Kuntze stays at Theater&Philharmonie Thüringen, Deutsche Symphonie-Orchester Berlin to perform at Festival "Berlin Atona", and Patricia Kopatchinskaja receives Grand Prix Musik.
The Observer
How Front Row sparked real drama in Theatreland
Outrage ensued when Amol Rajan, Giles Coren and Nikki Beds admitted to being less than ardent theatre-goers. Daivd Mitchell on whether we should take their honesty onboard.
Telegraph
Music stars 'take a knee for America'
Veteran Stevie Wonder makes a stand (or is it kneel?) on stage in solidarity with activist NFL players as row with #45 continues.
Classic FM
Leonardo da Vinci's forgotten musical invention recreated for the first time
A Polish instrument-maker has painstakingly created the first ever example of the 'viola organista'.
The Drum
The Refugee Orchestra Project's first film looks through the lens of 15 refugees to shatter stereotypes
The campaign film explores topics including the jobs refugees get, the hardship they have come from and discrimination they face in the countries they immigrate to.
Wired
The next big act out of Abbey Road could be an AI startup
Abbey Road Red is connecting tech startups with the famous studio's experts and facilities.
Limelight
Musica Viva moves into slick new national office
The new premises at Green Square boasts administrative space, a performance and recording studio, and a production suite.
Pizzicato
Unknown viola work by Shostakovich was found in Moscow
A previously unknown work of Dmitri Shostakovich has been found in the personal archives of the Russian violist Vadim Borisovsky (1900-1972), stored in the Russian State Archives in Moscow.
NMZ
Kay Kuntze bleibt Intendant in Altenburg und Gera
Der Vertrag von Kay Kuntze als Generalintendant der Theater und Philharmonie Thüringen GmbH ist bis zum Jahr 2022 verlängert worden.
Klassik Heute
Robin Ticciati und das DSO beim Festival "Berlin Atonal"
Das Deutsche Symphonie-Orchester Berlin und das Festival ›Berlin Atonal‹ treffen am 29. September im Projekt ›Parallax‹ zusammen.
Codex Flores
Grand Prix Musik 2017 für Patricia Kopatchinskaja
Der Schweizer Grand Prix Musik 2017 geht an die Violinistin Patricia Kopatchinskaja.
Twitter
BBC Philharmonic @BBC Philharmonic
FREE TICKETS- apply now @bbcshowstours for our studio concert @mediacityuk on Friday 13 October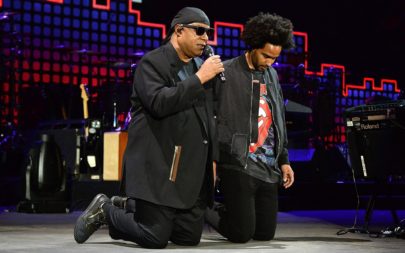 Stevie Wonder 'takes a knee' for America ©Getty
Merken