One female conductor 'not acceptable ratio', admits Royal Opera House
The Royal Opera House has acknowledged that it is not acceptable to have only one female conductor on its main stage in its next season and vowed it will do better.
On Tuesday, the company announced a 2019-20 season featuring 17 new productions and six world premieres across the Royal Opera and the Royal Ballet.
For its main stage opera productions it has 19 confirmed orchestra conductors. But the only woman is the French conductor Ariane Matiakh, who will conduct some of the performances of a revival of Richard Jones' La Bohème in January and February.
The Royal Opera's director of opera, Oliver Mears, was asked if that was a good ratio. "No it is not an acceptable ratio at all … of course," he said. "But this is something which is a long-term project. It's not going to happen instantly and in the following years we have a much better ratio of female conductors and it is something which is is an absolute priority for us."
---
BBC Philharmonic launches new phone app for concert-goers
The BBC Philharmonic has launched a new service for its concert goers. The web app called Notes sends information about the works being performed and the composers and performers involved live to audience members' smart phones in the concert hall.
Users can connect via Wi-Fi or 3G to open a web browser on their phones, receiving these live updates as they correspond with specific moments in the music or events happening on stage. These notes are triggered by a member of the BBC Philharmonic team at the back of the hall, who follows a score and changes the information onscreen accordingly. All the programme notes are tweet length (around 140-200 characters), and have been road-tested for the last few months in a handful of concerts.
Those utilising this new service will be positioned in a particular area of the hall away from other audience members, so as not to disturb those around them.
---
Décès d'Etienne Perruchon, compositeur de Dogora
Malade depuis plusieurs années, le compositeur Etienne Perruchon est mort mardi 14 mai. Il avait 61 ans. Auteur de nombreuses œuvres vocales et orchestrales, il a également signé plusieurs musiques de films. Etienne Perruchon a souvent travaillé avec le réalisateur Patrice Leconte pour les bandes originales des Bronzés 3, Le Magasin des suicides ou encore La Guerre des Miss.
Plus récemment, il a signé la musique de la série Philharmonia, diffusée sur France 2. Etienne Perruchon a également été le conseiller musical de cette série qui raconte la vie d'un orchestre de l'intérieur. Frédéric Lodéon avait invité le compositeur dans son émission pour en parler.
L'oeuvre la plus connue d'Etienne Perruchon est certainement Dogora, une pièce pour chœur et orchestre née d'une commande de l'école de musique de Chambéry pour célébrer le passage à l'an 2000. Le compositeur a également inventé la langue de ce pays, le dogorien. A partir de cette langue, il a développé plusieurs œuvres dont Dianoura, une commande de Radio France, créée avec le soutien de la SACEM. L'oeuvre a été jouée par 300 jeunes musiciens et chanteurs de l'Aveyron, de la Drôme et de Paris dans le cadre d'Orchestre à l'école.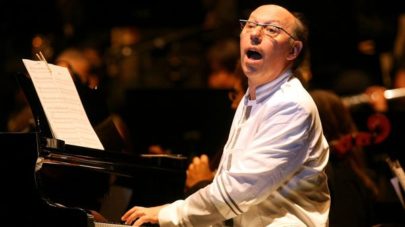 After being ill for several years, the composer Etienne Perruchon has died, on Tuesday 14th May at 61 years old. Writer of numerous vocal and orchestral works, he has also written several works for film. Etienne Perruchon often worked with director Patrice Leconte for the original soundtracks on Bronzés 3, Le Magasin des suicides (The Suicide Shop) as well as La Guerre des Miss (Beauties at War). 
More recently, he composed the music for the Philharmonia series, broadcast on France 2. Perruchon was also music supervisor for the series, which tells the story of an orchestra from the inside. Frédéric Lodéon invited the composer to talk about it on his show.
Perruchon's best-known work is without a doubt Dogora, a piece for choir and orchestra born from a commission from the music school in Chambéry to celebrate the turn of the millenium. The composer also invented the language of the country – Dogorian. From this language, he developed several works including Dianoura, on commission from Radio France, created with the support of SACEM. The work was played by 300 young musicians and singers from Aveyron, Drôme and Paris as part of the Orchestre à l'école.